Event Details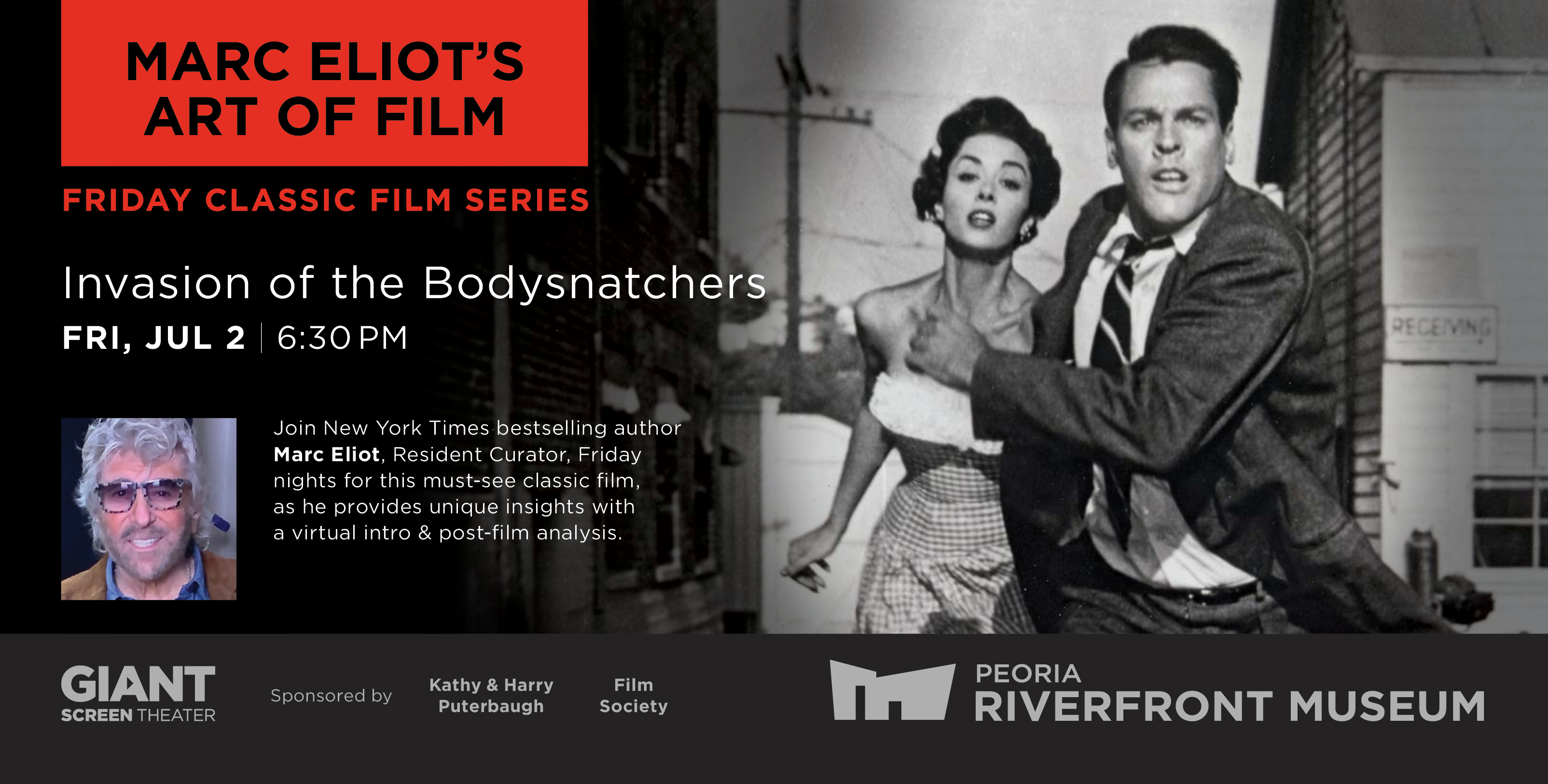 Fri, July 2 | 6:30 PM
Tickets | CLICK HERE
Join us for our new weekly film series in the Giant Screen Theater, "Marc Eliot's Art of Film," with The New York Times Best-Selling Author! Peoria Riverfront Museum is pleased to announce the residency of film critic and historian Marc Eliot, who is the author of more than two dozen books on pop culture and biographies on Hollywood icons. Marc has personally selected each of the films in the "Art of Film" series and provides virtual commentary for each film before and after the film's screening at the museum.
Invasion of the Body Snatchers, 1956. USA. Directed by Don Siegel (co-directed, without accreditation, by Nicholas Ray)
Invasion of the Body Snatchers stands tall among the best Hollywood films of a year that included such classics as Cecil B. DeMille's The Ten Commandments, John Ford's The Searchers, and Stanley Kubrick's The Killing, and high above much of the rest of that year's ample mediocrity such as Henry King's dismal screen version of Rodgers and Hammerstein's Carousel, or John Huston's blunderingly low-brow film adaptation of Melville's highbrow Moby Dick. Body Snatchers, the 15th out of the 40 films Siegel directed in his lifetime, and a portend of things to come.
Shot in 24 days on a budget of less than $350 thousand, Body Snatchers grossed 4 million 1956 dollars in its initial theatrical release as it touched an exposed both a raw political nerve and an intense romantic one, the latter I find far more compelling. Hollywood's fear of the spread of Communism is expressed by a town whose residents begin to lose their personalities under mysterious circumstances that cause them to act alike and lose their ability to express their emotions, a metaphor for the fear of the loss of individuality under Communism. City doctor Miles Bennell (Kevin McCarthy), who has recently broken up with his girlfriend, returns to his (fictional) home town of Santa Mira after getting call to return to his home from several of the town's residents, concerned their family members are suffering from some kind of mass psychosis that has affected their behavior. They are themselves, they tell him, but they're not themselves. Then, shortly after he comes back, one by one they report to Dr. Bennell that everything is fine. While in Santa Mira, he runs into his ex-girlfriend, Becky Driscoll ('50s screen beauty Dana Wynter) who has recently gotten divorced. She, too, has returned out of concern for her relatives, who appear to be suffering from the same symptoms. Soon enough, they rekindle their past failed romance (which might explain why Becky walks around town in a strapless evening gown for almost the entire film). The film builds to a nearly unbearable level of intensity, climaxing in one of the most exciting chase-and-escape sequences ever filmed, during which Miles and Becky's hopes are temporarily raised by the sound of a gospel chorus. It, too, turns out not to be not quite what it seems. Ultimately, Driscoll's shocking betrayal of Bennell illuminates the film's stunning plot by reducing it to the inevitable disintegration of one couple's attempt to rekindle lost love and find lasting romantic happiness. To me, the love story is where the action is in this movie, if you can see the metaphor as real and the real as metaphor.
This is a landmark film that should not be missed.
- Marc Eliot