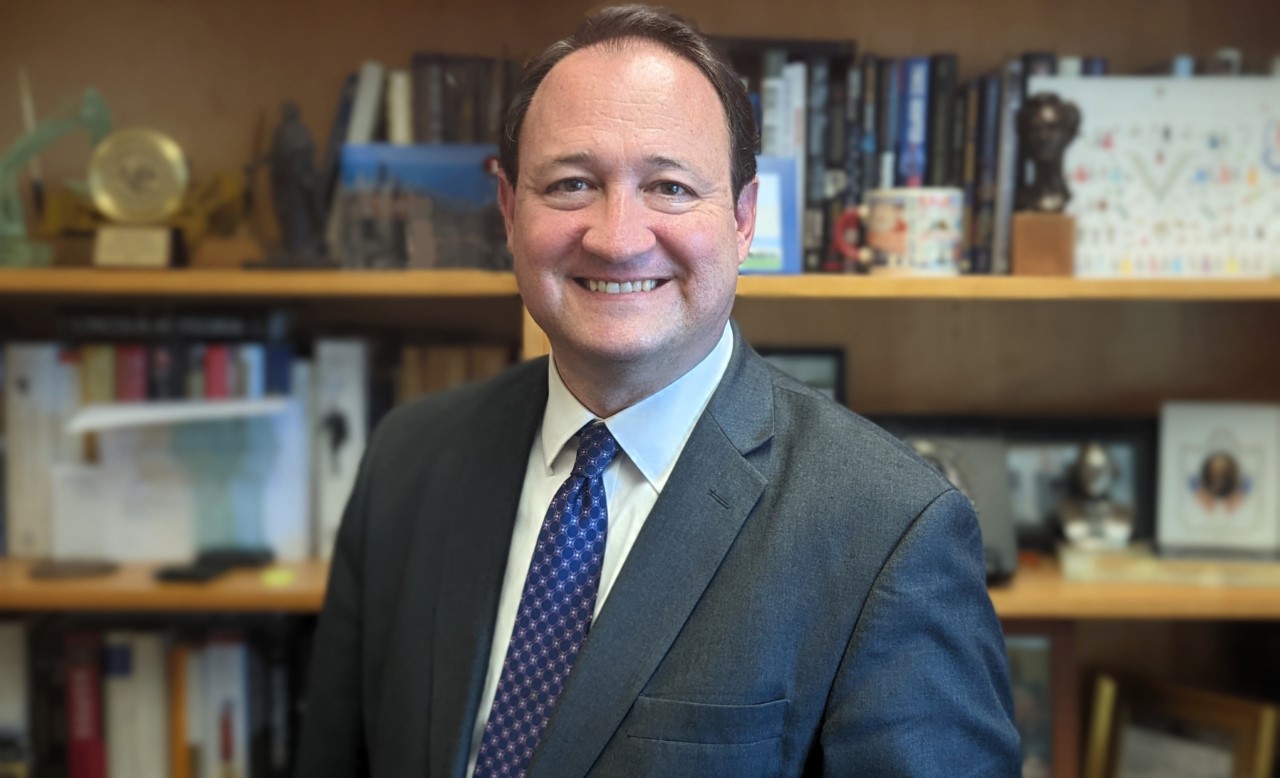 JOHN D. MORRIS
John D. Morris is the president & CEO of the Peoria Riverfront Museum, the only multidisciplinary museum of art, science, history and achievement in the nation. The first native Peorian to ever lead the museum or its predecessor, John was appointed CEO by the museum board in 2017. He builds on three decades of success in teaching people the joy of giving and has help steward gifts of more than $100 million for cultural and educational causes in our Peoria region.
Working with museum board chair Steve Jackson, the 21-member museum board and staff, they achieved record fundraising success, quadrupling the number of annual Visionary Society members to 400 in the past five years. With 250 community partnerships, the museum has become a center of our community.
During his interview for the job, John was inspired by the bold request of founding museum board member and former school board president Sally Snyder, who dreamed of giving every single student in Peoria schools access to a free curriculum-related museum tour. When philanthropist Polly Barton committed the startup funding and Dr. Sharon Kherat agreed to send every K-8th grader from the Peoria Public Schools, the museum's pioneering Every Student Initiative, or "ESI," was born. Now, in its sixth year, ESI has sponsored more than 50,000 student visitors and grown to six school districts and 42 schools. Hundreds now help fund the improvements and expansion of ESI, including through the new "Christmas in the Village" event chaired by former teacher and museum board member Alison Unkovich and making its debut this year with a fifty foot Christmas tree, the biggest in Peoria history.
To celebrate the tenth anniversary of the museum in October 2022, the Gilmore Foundation announced a $1 million gift to support the museum's work to secure more blockbuster exhibitions, like the international debut of T.rex and the upcoming BodyWorlds Rx in 2023 and Sharks in 2024.
John is proudest for the talented team he has helped assemble. He appointed renowned collector and art historian Bill Heidrich (High-drick) as guest curator and advisor to the museum, opening the door to become one of the earliest museum partnerships with philanthropist Alice Walton's Art Bridges Foundation. John created a new president's advisory council chaired by Secretary Ray LaHood. He recruited New York Times best-selling entertainment author Marc Eliot and created a film society for the Giant Screen Theater, the largest screen in Illinois. He partnered with legendary artist Preston Jackson to bring his masterpiece, Bronzeville to Harlem: An American Story to the museum permanently.
John hired Bill Conger as chief curator who manages the Permanent Collection that has grown to more than 18,000 total objects, adding extraordinary gifts like a rare Lincoln Life mask, the Golden Voice records, Annie Malone artifacts, and the promised gift of the Heintzman Brothers Modern Masters collection. John helped science curator Renae Kerrigan's achieve her vision to upgrade to the world's most advanced planetarium system and recently engaged donors to support the new permanent acquisition of a 10-ft.-tall, dark purple amethyst tower, one of the three largest specimens on public display in the world.
He previously served as founding director of the Ronald W. Reagan Society of Eureka College, vice president for PBS station WTVP, and served eight years an at-large member of the Peoria City Council including as Mayor Protem. He holds a master's degree of public administration and bachelor's degree from The George Washington University in Washington, D.C. where he was student association president, founding presidential fellow, and a White House intern.
John is married to Cindy Morris, president of the Peoria Public Schools Foundation, champion baker and hedgehog owner. They are proud to live in Peoria where they raised their two adult children, Jordan and Taylor.