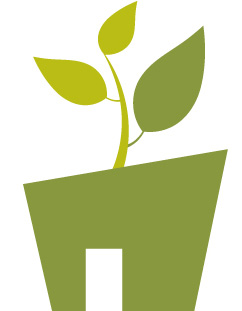 Take a self-guided Green Tour (look for the logo, above!) to learn about the features of our building and our practices that make us an environmentally sustainable museum. Throughout Riverfront Museum, the Green Tour logo identifies elements of the building and our operations that are part of our sustainability mission. 
The Riverfront Museum is LEED Gold-NC certified (LEED = Leadership in Energy & Environmental Design). 
Use the Green Tour map to explore the sustainable aspects of the Museum (the Green Tour logo will mark the locations and features of the tour). To view//download the Green Tour map, click here.
Schools may request information and conduct self-tours through the Museum.
Eco-friendly Highlights
More than 90% of the materials from the former Sears building were recycled and used for I-74 reconstruction
Local construction resources & labor reduced the need for travel/shipping fuel use, and added to our local economy
Everything from the site selection to the lighting & carpet was chosen with an eye for preserving resources
Flooring made from recycled materials
Design makes use of natural light as much as possible
Photovoltaic (solar) panels on the roof are capable of providing as much as 3% of the building's power
Charging stations for electric cars are available in the Museum's parking garage
Our bioswale - a waterfall into an area of gravel and native plantings (see below)  - handles rain water runoff responsibly & beautifully!
Riverfront Museum Bioswale