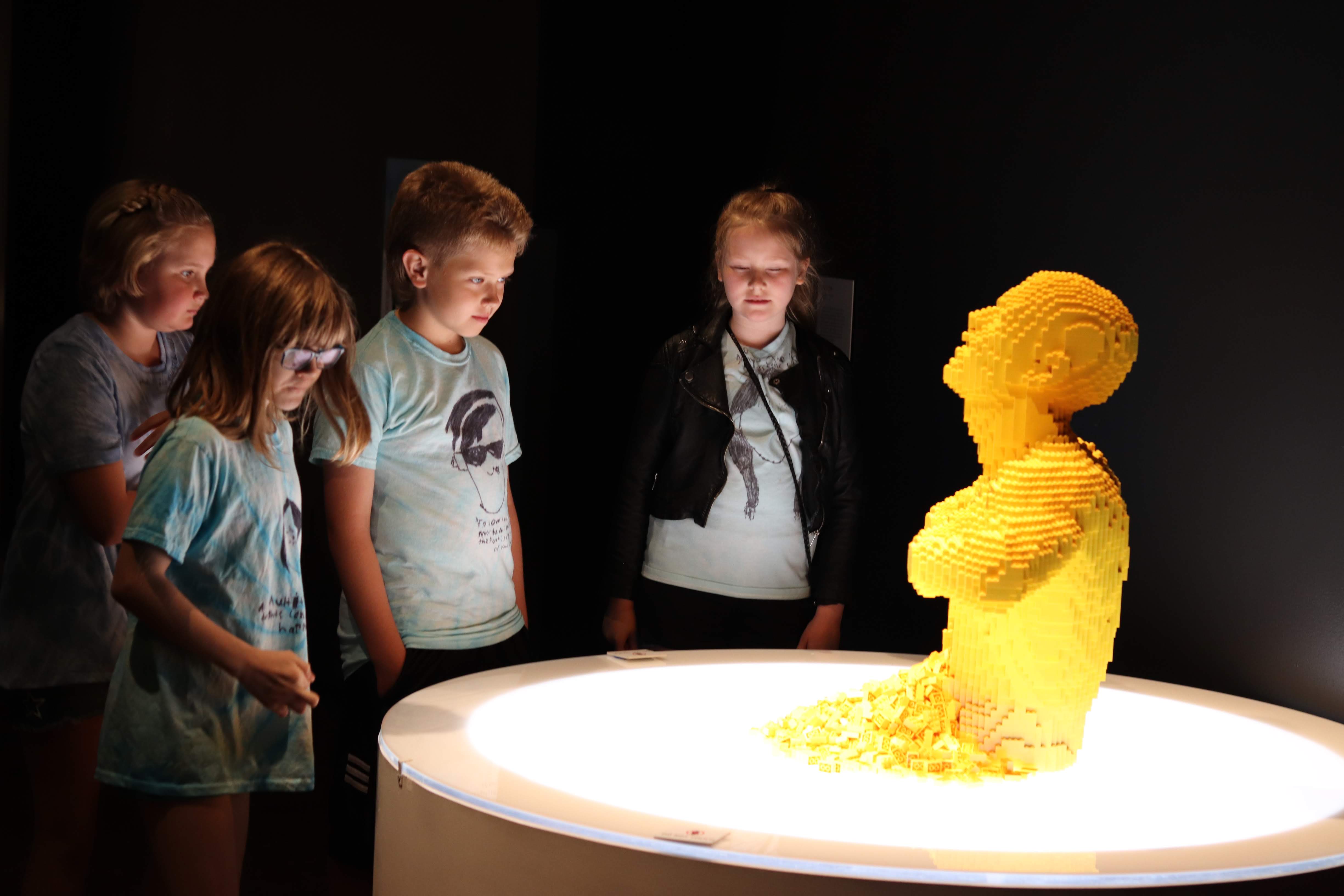 Check out our Riverfront Museum volunteer opportunities below! If you believe your personality and skills will benefit the visitor experience of the Museum please  fill out the Volunteer Application and submit it to Volunteer Coordinator Kate Schureman via mail (222 SW Washington Street, Peoria, IL 61602) or email at kschureman@peoriariverfrontmuseum.org .  Contact Kate (309-863-3002) with any questions!  Thank you!  
To sign up for an event or check on a signup, please click on the name of the event below, or contact Kate at 309-863-3002 or Ruth at 309-863-3005.
Volunteer Opportunities
Ongoing:
The Every Student Initiative is a program that brings all students from District 150 and East Peoria schools to the museum for an educational trip that coordinates with what they are learning in the classroom. We need volunteers (two per day) weekdays from 9:15 - 12:00 to help lead students through the exhibits and assist museum staff with activities. This is a wonderful way to help not only the museum, but also the children of Central Illinois. Training is provided, and you decide your schedule and how often you'd like to help out. No long term commitment is required.
Become a part of our welcome center team! We need friendly faces to greet guests as they arrive at the museum! Shifts are usually on weekends and days we have special events at the museum. 
Share your enthusiasm for the Riverfront Museum with visitors to the galleries! Learn about our exhibits and sign up for shifts as a roving docent on Saturdays or Sundays, some other days per schedule. If you'd like to do a day or time not listed on the schedule, please click to contact Ruth or call (309) 863-3005. (Note: This signup is for the "gallery attendant" kind of docent; if you prefer to lead tours, please see the next opportunity, Docent-led tours.)
Come in for training in our current feature exhibit, and then sign up to lead tours of the gallery for Museum visitors. Saturdays and Sundays 12:00-2:00 and 2:00-4:00 pm.
Help visitors learn how streams form and behave, by leading demonstrations of our stream table in the River Science Lab. Saturdays 11:00-1:00; other times available by arrangement.
February:
Help Museum staff with guest check in, serving beverages at the bar, and other wizardly activities during this highly popular Harry Potter-themed event.  February 21, 22, 23, 5:00-8:00 pm
Take tickets and help patrons find seats in the Giant Screen Theater for this special film screening, February 23, 1:00-2:00 pm.
March:
Help with check in of attendees for our fantasmagoric Dinner with DaVinci spectacular, March 6, 5:00-6:15 pm.
Help staff check in guests for our very popular monthly program for seniors, March 11, 9:30-11:00 am.
Help staff serve food and beverages for this popular program in the Dome Planetarium, March 21, 6:00-9:00 pm.
Assist teachers at our spring break day camps, March 23 or 27, 8:30-4:00.
So many tasks go into a successful 5k race! Help stuff participant packets, hand out packets and register participants, or help with the myriad of duties on race day. Packet stuffing on March 26, packet hand out on March 27, and race day March 28.
Marc Eliot returns this spring to host a Stanley Kubrick film fest! Help staff with guest check in, running a green screen photo booth, or serving beverages.  March 26-29, evenings
April:
Help celebrate the opening of 3 new exhibits! Help staff greet visitors in the lobby and galleries, April 3, 4:30-6:30 pm.
More spring break day camps! Assist teachers on April 10 or 13, 8:30-4:00.
Help guests with check-in and finding seats in the Giant Screen Theater for this talk by photographer Thomas Mangelsen, April 18, 6:30-8:30 pm.
May:
Help staff greet guests at the premiere of this new award winning planetarium show. Our own Curator of Science and Planetarium Director Renae Kerrigan helped conceive of and create it! May 1, 6:00-8:00 pm
Help staff greet visitors and assist participants in our annual Pollinator Day family activities, May 16, 11:00 am - 2:00 pm.
Help staff serve food and beverages for this popular program in the Dome Planetarium, May 16, 6:00-9:00 pm.
Help kickoff the opening of our immersive new summer exhibition from the American Museum of Natural History. Greet visitors to the exhibit on opening night, in the lobby and galleries. May 22, 5:00-7:00 pm
June:
Assist teachers during our annual STEAM-based summer camp. Great opportunity for high school students to fulfill service hours requirements! Sign up for a week at a time or for the entire summer (7 weeks), full day, half day, or after care. Must complete Student Volunteer Application and interview in advance. See signup for details. June 8 - August 7
Help staff serve food and beverages for this popular program in the Dome Planetarium, June 27, 6:00-9:00 pm.
Other:
Museum Store
Museum Store Volunteers provide many essential services to Museum visitors and patrons. Store volunteers work side-by-side with staff to help create an excellent customer experience by greeting and assisting guests who visit the Museum Store. Volunteers learn to work with the computerized cash register as well as help maintain a neat and tidy appearance in the Museum Store. You must be 18 years of age to serve as a Museum Store Volunteer. Please contact the Store Manager for more information.
Office Assistant
Help office staff with tasks such as folding brochures, stuffing envelopes for mailing, filing, and other duties as assigned. Please contact Kate (309-863-3002) or Ruth (309-863-3005) for more information.
VOLUNTEER CONTACT INFO:
If you are interested in any of the above mentioned volunteer opportunities, please fill out our standard volunteer application and contact our Volunteer Coordinator. Thank you!