Join us for Inspirational Content Daily! Found out more at Virtual Peoria Riverfront Museum!
---
IMPORTANT INFORMATION REGARDING COVID-19! In the interest of visitor safety, we're revising our public operations: 
The Peoria Riverfront Museum is closed to the public effective March 14, 5 p.m. until further notice.
We make this decision in light of the rapidly changing circumstances and the announcement of the first local case of COVID-19. We choose to exercise an abundance of caution and responsibility as a public space and trusted community institution. We care deeply about our community and urge all of our members and friends to help provide informed leadership in promoting healthy and safe practices in the coming days and weeks. We plan to continue to provide uplifting digital content from museum through social media with a desire to inspire during a time when we may be more constrained. 
---
EXPLORE UPCOMING EVENTS - click here!
Movie + Event Calendar - Performance Schedules & Ticket Purchase - click here!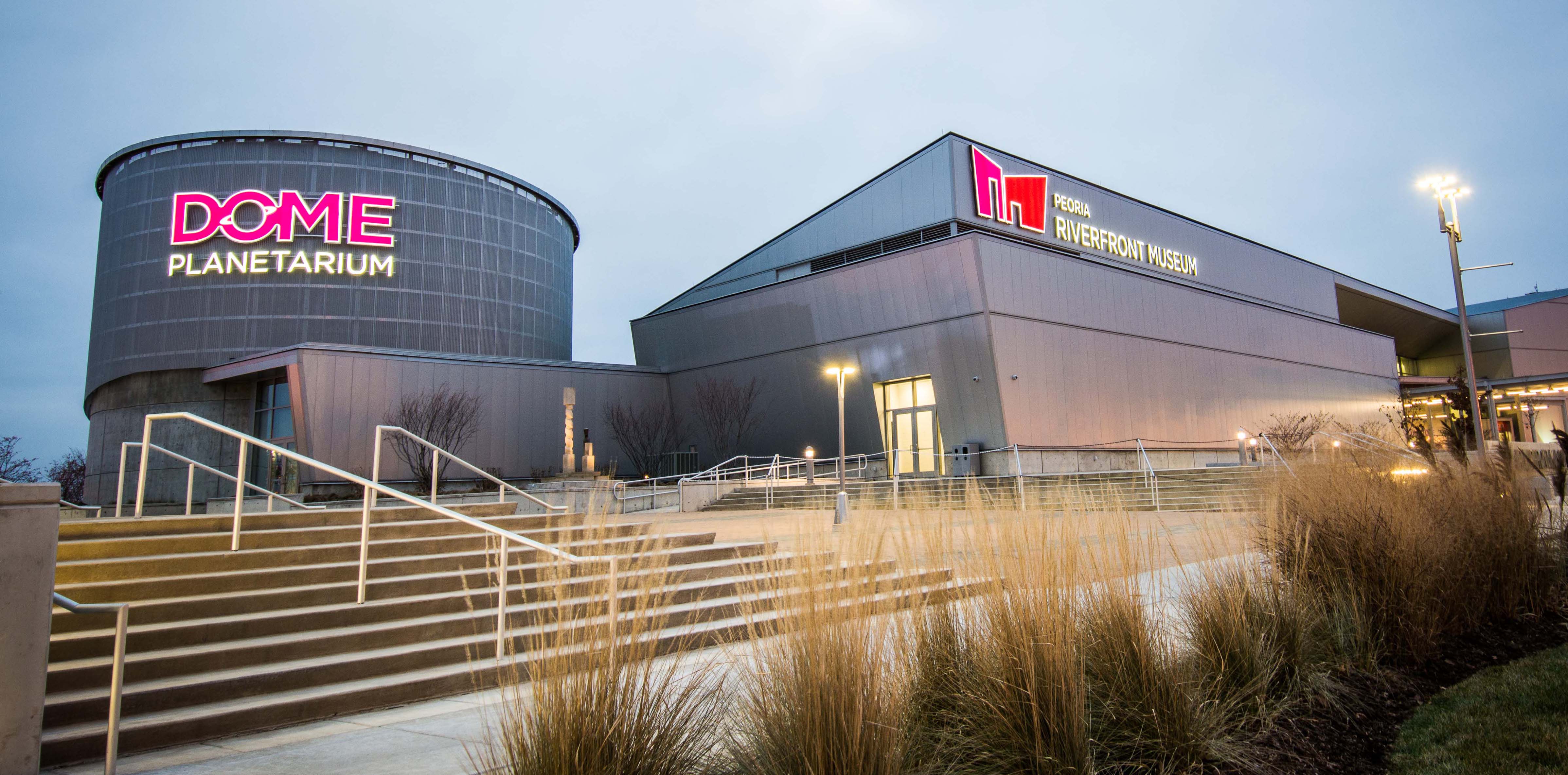 MUSEUM HOURS
SUNDAY.............................Noon - 5 pm
MONDAY...........................CLOSED* 
TUESDAY..........................10 am - 5 pm
WEDNESDAY....................10 am - 5 pm
THURSDAY.......................10 am - 5 pm
FRIDAY..............................10 am - 5 pm 
SATURDAY........................10 am - 5 pm (open until 8 pm on 2nd Saturday of the month)
*The museum is open on the following Mondays from 10 am to 5 pm:
Martin Luther King Jr. Day, January 20
Presidents Day, February 17
Casimir Pulaski Day, March 2
Spring Break, March 23
Spring Break, April 13
May 25 through September 7
FREE PARKING inside our covered garage off of Water Street! 
---
MUSEUM ADMISSION
EXHIBITS & PLANETARIUM
MUSEUM MEMBERS get FREE admission to all exhibitions, galleries & public planetarium shows!
NON-MEMBERS (Buy a membership & get into our exhibitions and public planetarium shows for free as often as you wish!) 
Adults....................$11** | with Da Vinci: The Genius .... $18
Seniors 60+...........$10** | with Da Vinci: The Genius .... $16
Students with ID...$10** | with Da Vinci: The Genius .... $16
Youth 3 - 17...........$9**   | with Da Vinci: The Genius .... $14
MEMBERSHIP PAYS BACK! Buy a One+One Membership for $90 or a Family Membership for $110 - they pay for themselves in a few visits! Plus our Reciprocal Program gives you access to up to 1,400 science centers & museums world wide with one membership! Click here!
**BLUE STAR MUSEUMS: FREE admission provided by the Museum for active US service members and their families to all Museum exhibits, daytime planetarium shows & daytime educational films Memorial Day through Labor Day. We also offer $2 off all films all year, and $2 off Museum admission during the rest of the year.
**MUSEUMS FOR ALL:  Visitors presenting an EBT (electronic benefit transfer) card and photo ID can receive up to four general admission tickets provided by the Museum at $3 each for the galleries and planetarium. Giant Screen Theater films and special exhibit charges are extra.
**ASTC MEMBERSHIP: Members of ASTC museums (Association of Science-Technology Centers) receive free general admission to the Peoria Riverfront Museum through the ASTC Travel Passport Program (special exhibition charges still apply). 
NOTE: the ASTC Travel Passport Program DOES NOT APPLY:
---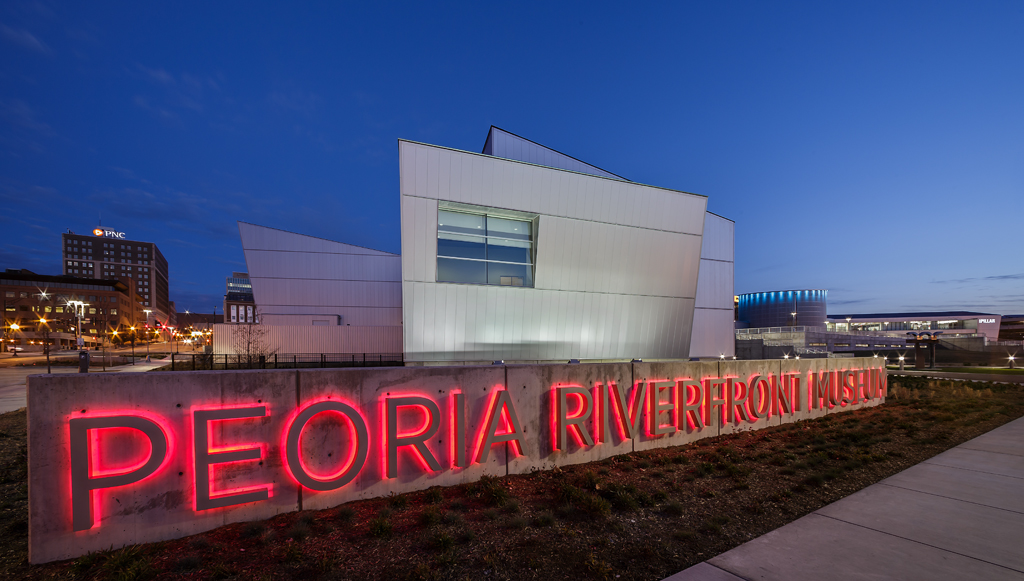 GIANT SCREEN THEATER
View movie schedule & buy tickets - click here!
Educational Movie
Adults...............$7.50
Seniors 60+......$6.50
Youth 3 - 17......$5.50
Members..........$5 
2D Feature Movie
Adults.............$10.50
Seniors 60+......$9.50
Youth 3 - 17......$8.50
Members get $2 off
3D Feature Movie
Adults.............$14.50
Seniors 60+....$13.50
Youth 3 - 17....$12.50
Members get $2 off
---
EXHIBITS & PLANETARIUM + THEATER (COMBO)
Combo with Educational Movie
Adults.............$15 | with Da Vinci: The Genius .... $22
Seniors 60+....$14 | with Da Vinci: The Genius .... $21
Youth 3 - 17....$13 | with Da Vinci: The Genius .... $20
Combo with 2D Feature Movie
Adults.............$19.50 | with Da Vinci: The Genius .... $26.50
Seniors 60+....$17.50 | with Da Vinci: The Genius .... $24.50
Youth 3 - 17....$15.50 | with Da Vinci: The Genius .... $22.50
Combo with 3D Feature Movie
Adults.............$23.50 | with Da Vinci: The Genius .... $30.50
Seniors 60+....$21.50 | with Da Vinci: The Genius .... $27.50
Youth 3 - 17....$19.50 | with Da Vinci: The Genius .... $24.50