Nationally acclaimed local sculptor, Fisher Stolz, trained at the University of Georgia and abroad in Cortona, Italy. His works in stone, steel and cast metals can be seen in Chicago, Peoria, and on campuses across the country. He was commissioned to create Zen Vision in 2016 by the Friends of Jim Richerson and Judy Lee. The dynamically curving legs circling and supporting the spherical focus point in this work represent the multiple community groups that came together under Richerson's leadership in order to build the Peoria Riverfront Museum. Fisher Stolz is a Professor of Sculpture at Bradley University and maintains a studio in Washington, Illinois.
In 1980, just prior to his Peoria commission, Bladen produced the monumental-scale work, Cosmic Seed. The 24-foot high work was installed at the Wallace State Office Building in Des Moines, Iowa. This work is a mid-scale aluminum version of the original.
Eric Shaw
American (1965-1996)
Sphere One, 1986
bronze
Given in memory of the artist by his parents, Blossom and Jay Shaw 2003.12

Shaw was a sculptor and photographer. He drew inspiration almost entirely from nature, celebrating the plants and animals that share the planet with humans as well as the "endless structural and architectural aspects of our world." Sphere One is an example of the latter. The dual tetrahedron inside a sphere composed of patterned bars within a larger sphere opened up with "cut outs" was cast as a single piece of brass within a hand-carved mold made of very fine sand hardened with epoxy.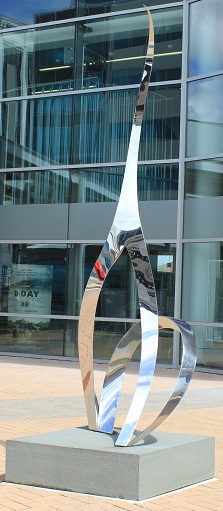 John Raimondi
American, (born 1948)
Dian,1985
stainless steel
Gift of Mel and Roz Regal 2007.4
Over the course of his career, Raimondi has produced more than 75 monumental works of art, displayed throughout the world. He studied at the Massachusetts College of Art, where he created his first monumental works. In 1973, he won a national competition to be part of the I-80 Bicentennial Sculpture Project.

Dian is a tribute to American zoologist Dian Fossey (1932-1985), who spent many years studying eight gorilla groups in Rwanda. Raimondi, an ardent conservationist, often finds inspiration for his work in nature. The arc behind the twisting upright figure represents the moon, a reference to the mythological goddess Diana, goddess of the hunt and moon. The highly reflective surface gives the sculpture an ever-changing relationship with its setting.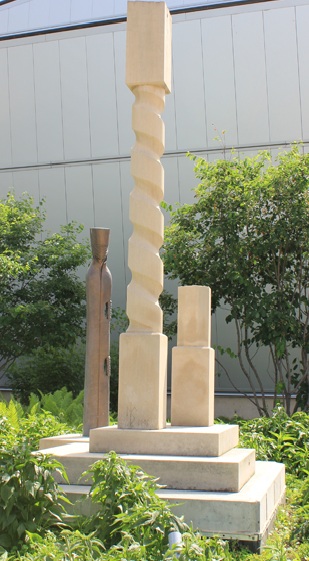 Nita Sunderland
American (1927-2020)
Ruins I,1995
limestone and bronze
Gift to the Museum by Dr. and Mrs. George Kottemann 1997.44
Sunderland's passion is to convey her experience of life through stone, metal and wood. Human forms suggestive of ancient and medieval figures dominate Sunderland's works. They have a majestic yet poetic presence. Ruins I and related works in the series combine broken stone columns with dark, bronze figures in an architectural environment, creating a serene tableau of classical ruins.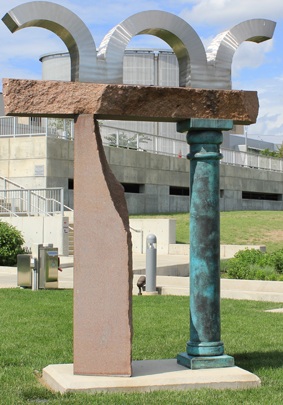 Barry Tinsley
American (born 1942)
Peoria Portal,1989
granite, stainless steel, bronze
Gift of Harriett and Eugene Swager 1989.10.1
In this work the artist combines elements of classical and modern architectural motifs using a natural material—granite—with a man-made one—steel. The relationship between architecture and the environment is important to Tinsley, as is establishing a relationship between his works and the space around them.

Mrs. Swager and her daughters commissioned "Peoria Portal" as a birthday surprise for her husband, an active architect at the time Tinsley created the sculpture, always intending to dedicate it to the Peoria community by donating it to the Museum.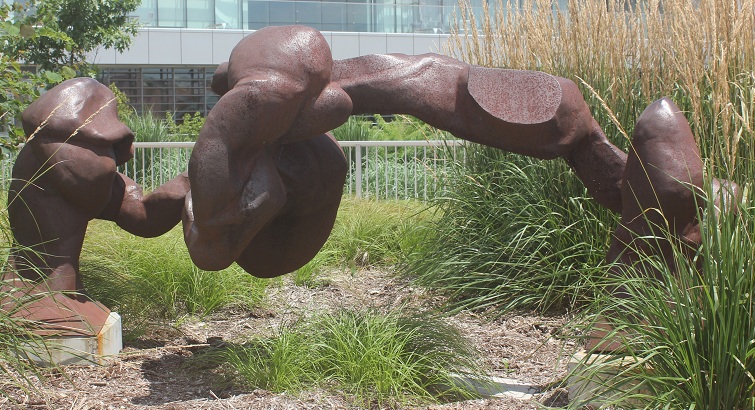 Thomas Henderson
American (1936-2019)
Champayne #4,1967
Cor-Ten steel
Gift of Dr. and Mrs. Lester Knorr 1971.10
An example of a meandering biomorphic shape, this work was formerly located at Glen Oak Park Conservatory. Henderson was on the University of Illinois faculty from 1965 to 1967. He recently retired from teaching sculpture at Mount Allison University in News Brunswick.This work is made of Cor-Ten steel, a material developed in the 20th century to obviate the need for painting because it formed a stable rust-like appearance when exposed to weather. It has been used by many sculptors and by architects for building exteriors.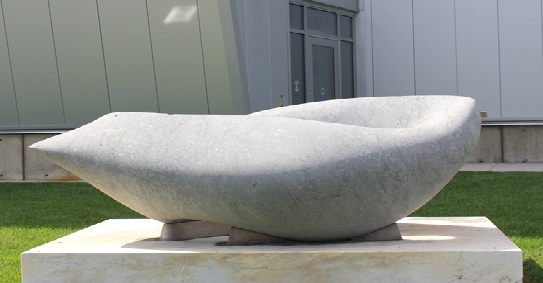 Antoine Poncet
Swiss (born 1928)
Embryonoire, Nero Atlantide, circa 1985
marble
Gift of Sara Lee Corporation 1989.9
Poncet descended from several artists of note, including his grandfather, painter Maurice Denis. His mentors included sculptors Jean Arp and Germaine Richier. Poncet seems to have been most heavily influenced by Arp, a founder of the Dada and Surrealist movements in France, who explored abstract organic forms in his art. Poncet was the only student Arp ever accepted.

Curving, asymmetrically balanced shapes, sometimes with clefts or holes cut into them, characterize Poncet's style. He maintains studios in Paris and in Carrara, Italy (famous for it's marble quarry). His sculptures can be found in a number of corporate collections and public art museums. Embryonoire, Nero Atlantide, made of Carrara marble, was one of 18 sculptures commissioned from Poncet by Nathan Cummings, former chair of the Sara Lee Corporation in Chicago.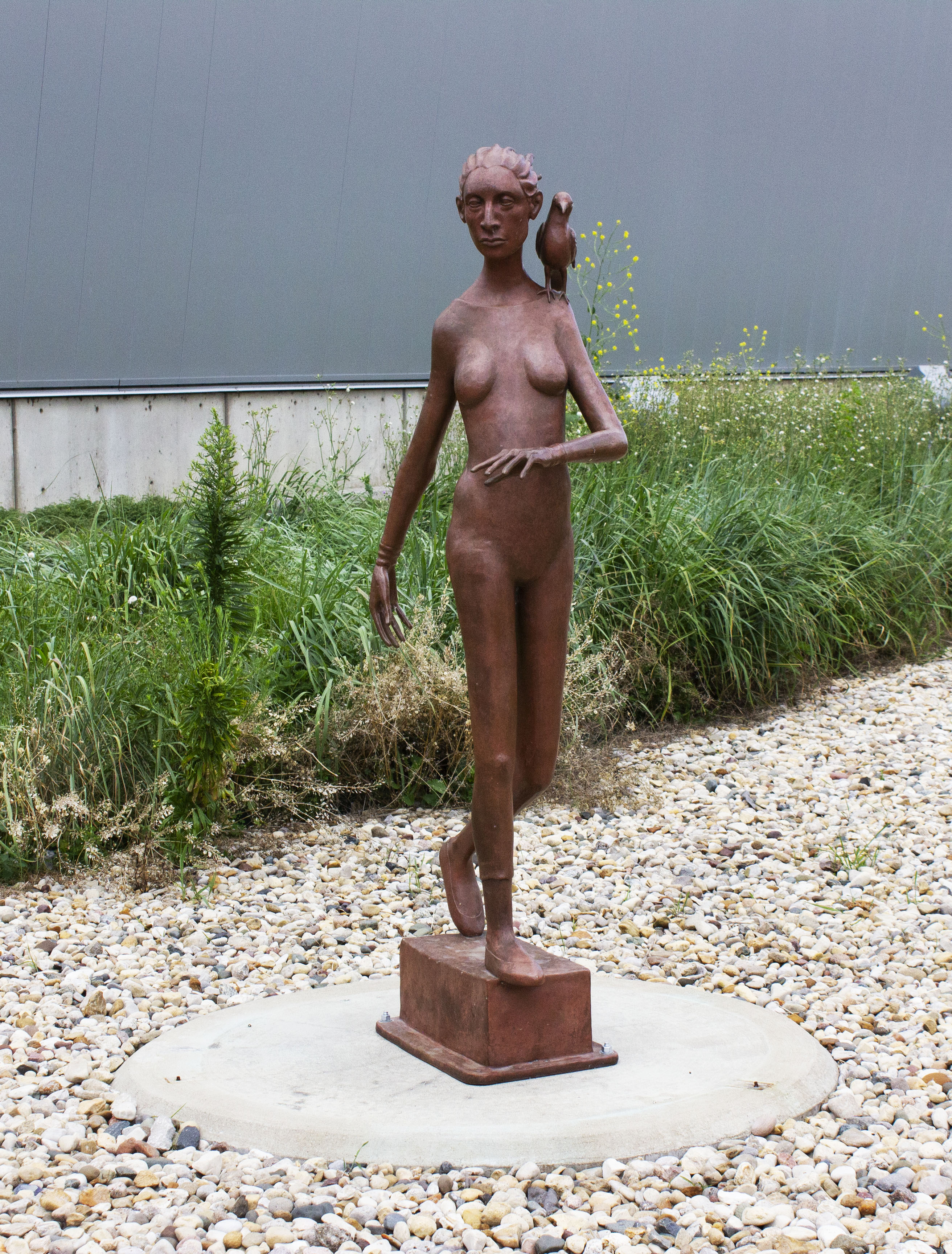 Patricia Whalen Keck
American
The Pedestrain, 2017
Bronze
Gift of Brenda Mahoney and Henry Blackwell 2018.3
Keck is a figurative sculptor with an interest in the natural world. She holds a degree from Illinois State University in Art Education and has been teaching young people for more than twenty years. In 1999 she received a Master of Arts degree in Liberal Studies and in 2016 she received another Master of Arts degree in sculpture, both from Bradley University. In 2018 she completed a Masters of Fine Arts in sculpture at Bradley University as well.
Keck maintains a studio at The Mill, located in the newly renovated Warehouse District of Peoria.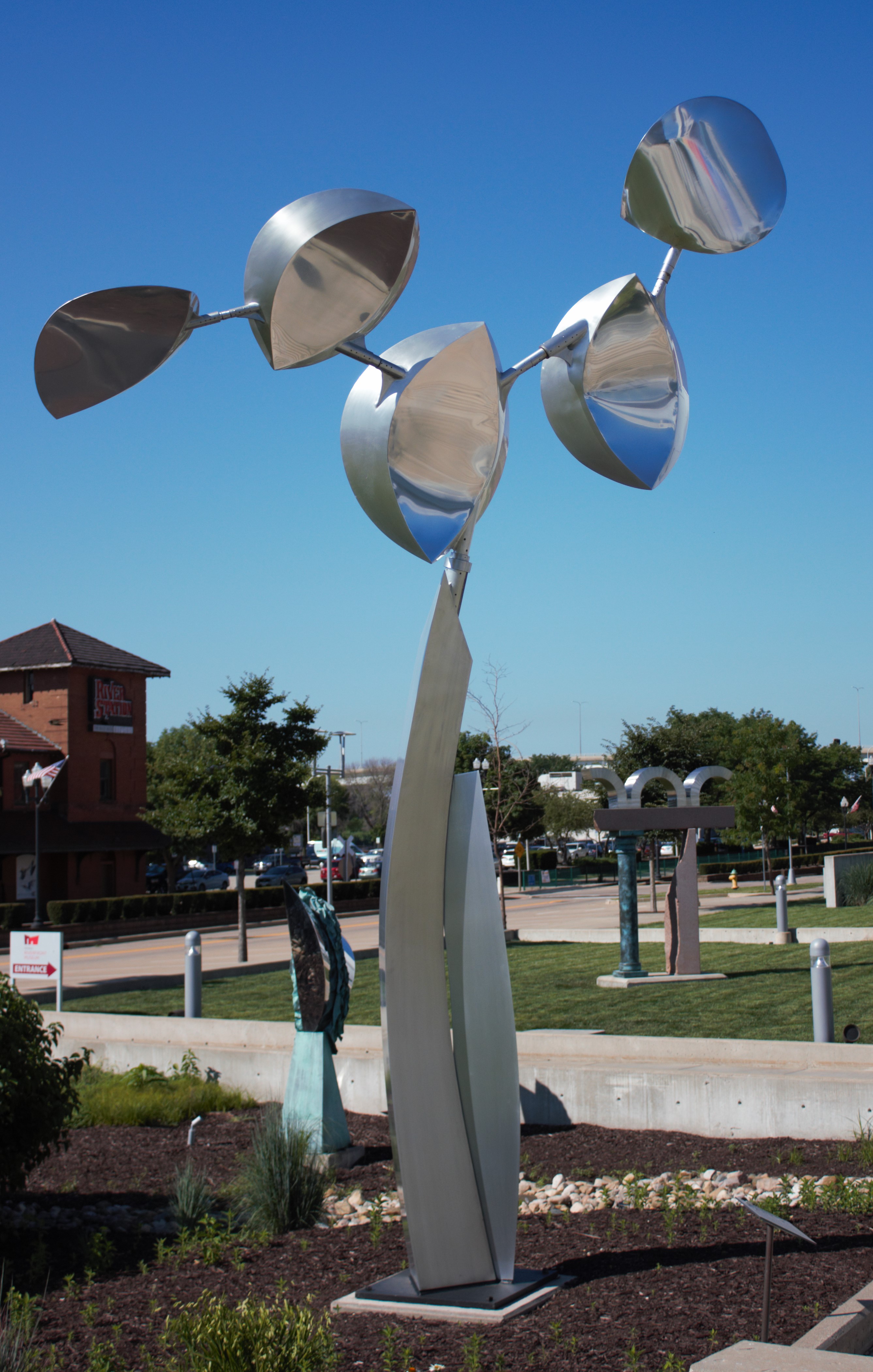 Lin Emery
American, (born 1926)
Flowering, 1997
polished aluminum
Gift of the Ransburg Family 2016.9.11
On May 2, 2019, Flowering was dedicated to the memory of David P. Ransburg, former Mayor of Peoria and founding chairman of the board of Peoria Riverfront Museum. As a kinetic sculpture, Flowering is dependent on movement to achieve its dynamic qualities. It was gifted to the museum to instill Peoria with the confidence and optimism that Dave so deeply felt for the city.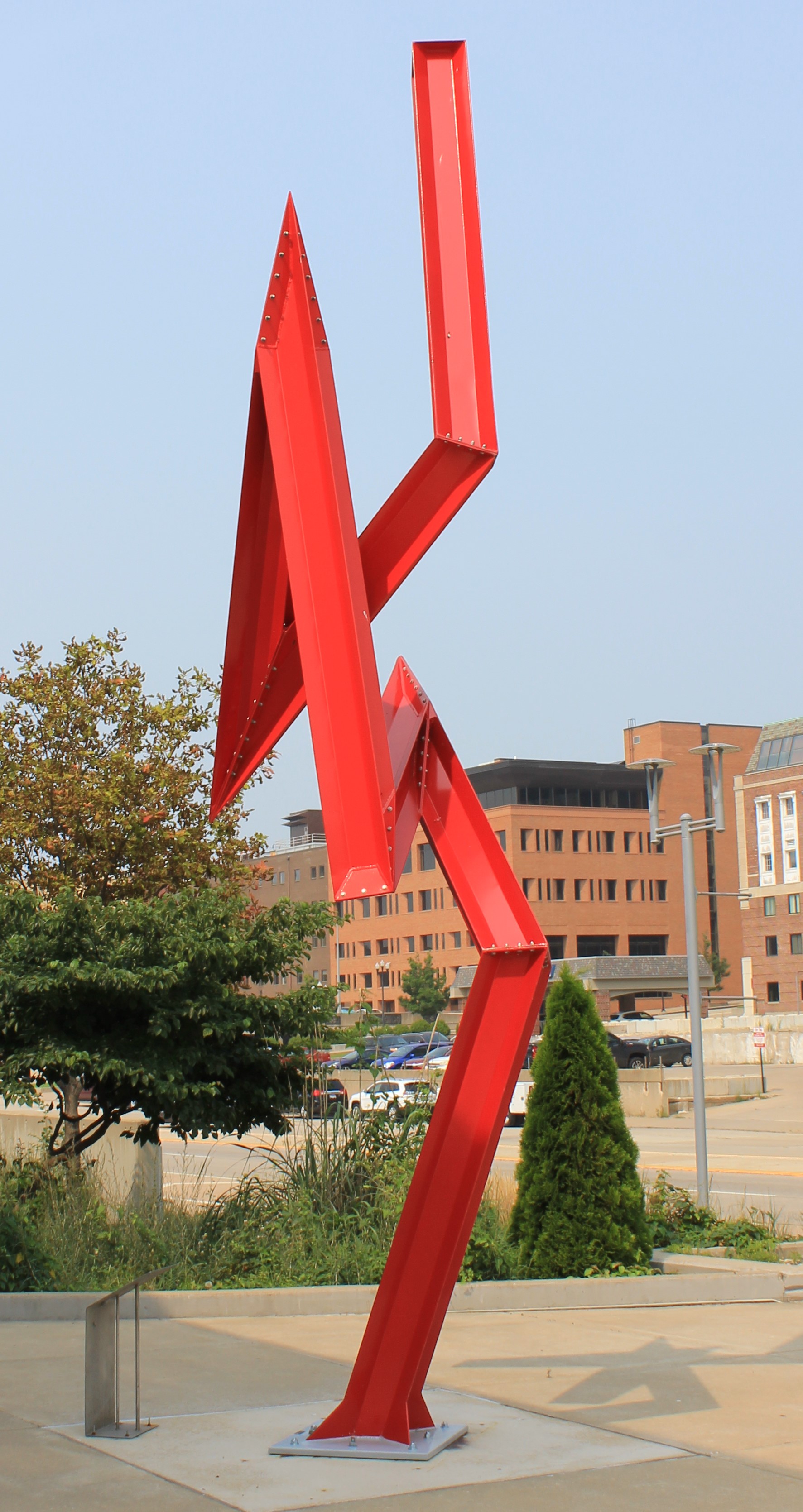 Bilhenry Walker
American
Inuit's Bone Sequi
Powdercoat Aluminium
On loan from the Peoria Sculpture Walk
"Inuit's Bone Sequi" is fashioned after an organic Inuit sculpture of bones, tusk, and antlers. Utilizing an industrial approach, Walker has comprised seven metal struts forming a line connecting to the earth yet reaching into the sky for infinity. The inner shapers are non-objective but reference the original fragments of the Inuit's bones. His use of these unique struts creates a visual linear interplay between drawing and sculpture.

Alex Mendez
American
Rusted Melody II, 2019
Steel
On loan from the Peoria Sculpture Walk
Mendez is both a sculptor and working musician who is drawn to abstract forms believing he can provide visual sculpted art through music. Through his efforts to master concept, design, sculpting, and installation, Mendez creates a progression of his musical and artistic abilities. "Rusted Melody II" has a natural patina that mimics the natural wood of an acoustic guitar. This sculpture pays tribute to his musical roots.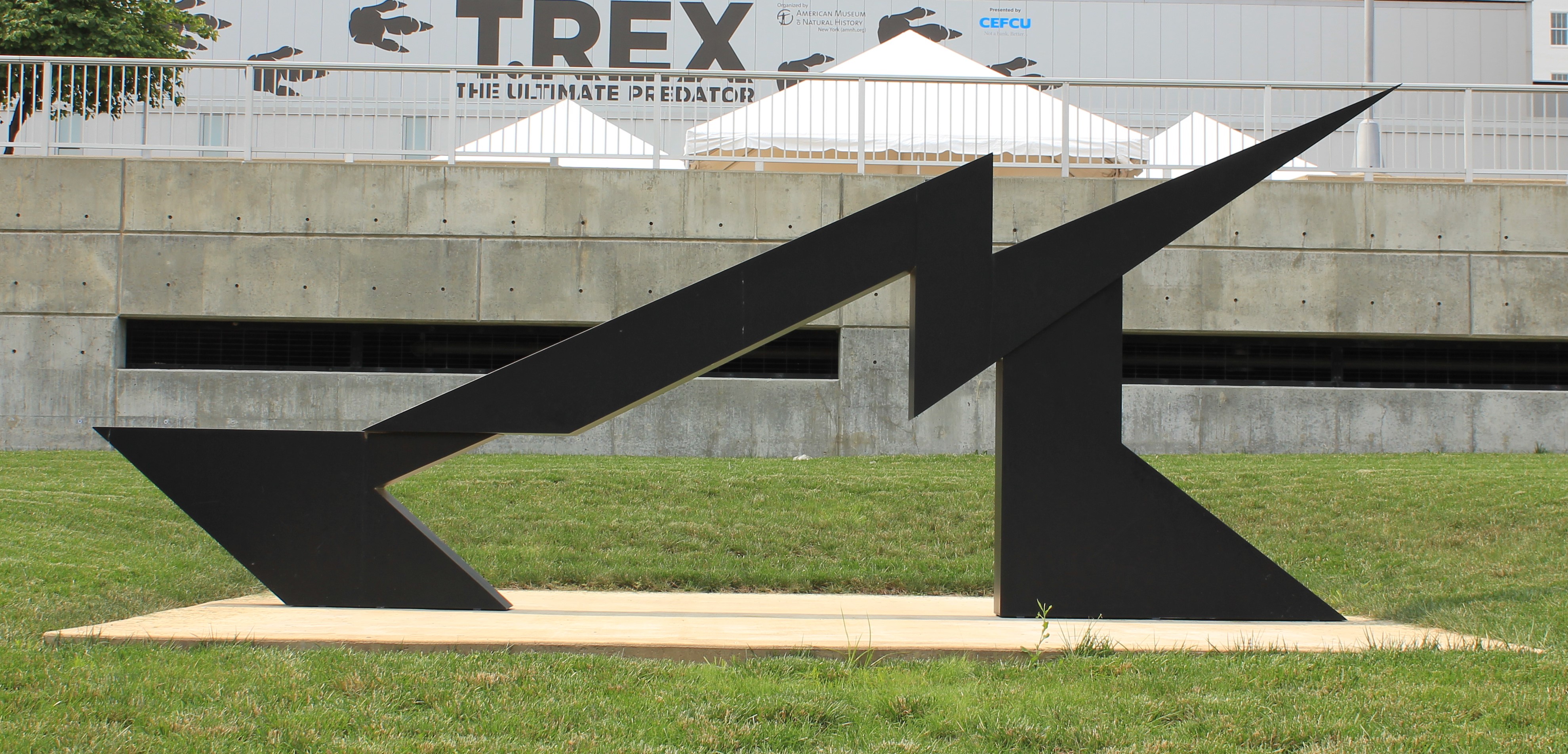 Ronald Bladen
American (1918-1988)
Black Lightning
Painted aluminum
On loan from The Ronald Bladen Estate and Loretta Howard Gallery
The sculptor of Peoria's own 1983 "Sonar Tide," located at the Phillip Johnson designed Peoria Civic Center, Ronald Bladen is known as a major contributor to the art movement Minimalism. Other Minimalist sculptors such as Donald Judd, Sol Lewitt, and Richard Serra have cited his influence and impact on American art.
Just prior to his Peoria commission in 1981, Bladen produced the monumental-scale work, "Black Lightning," which stands in Washington at the Seattle Center's base of the Space Needle. Like "Sonar Tide," the work exudes energy and lift while engaging with and activating its surrounding environment. Subsequently, this mid-scale version of "Black Lightning" was produced after the original.
"Sonar Tide" was Bladen's last outdoor commissioned work.