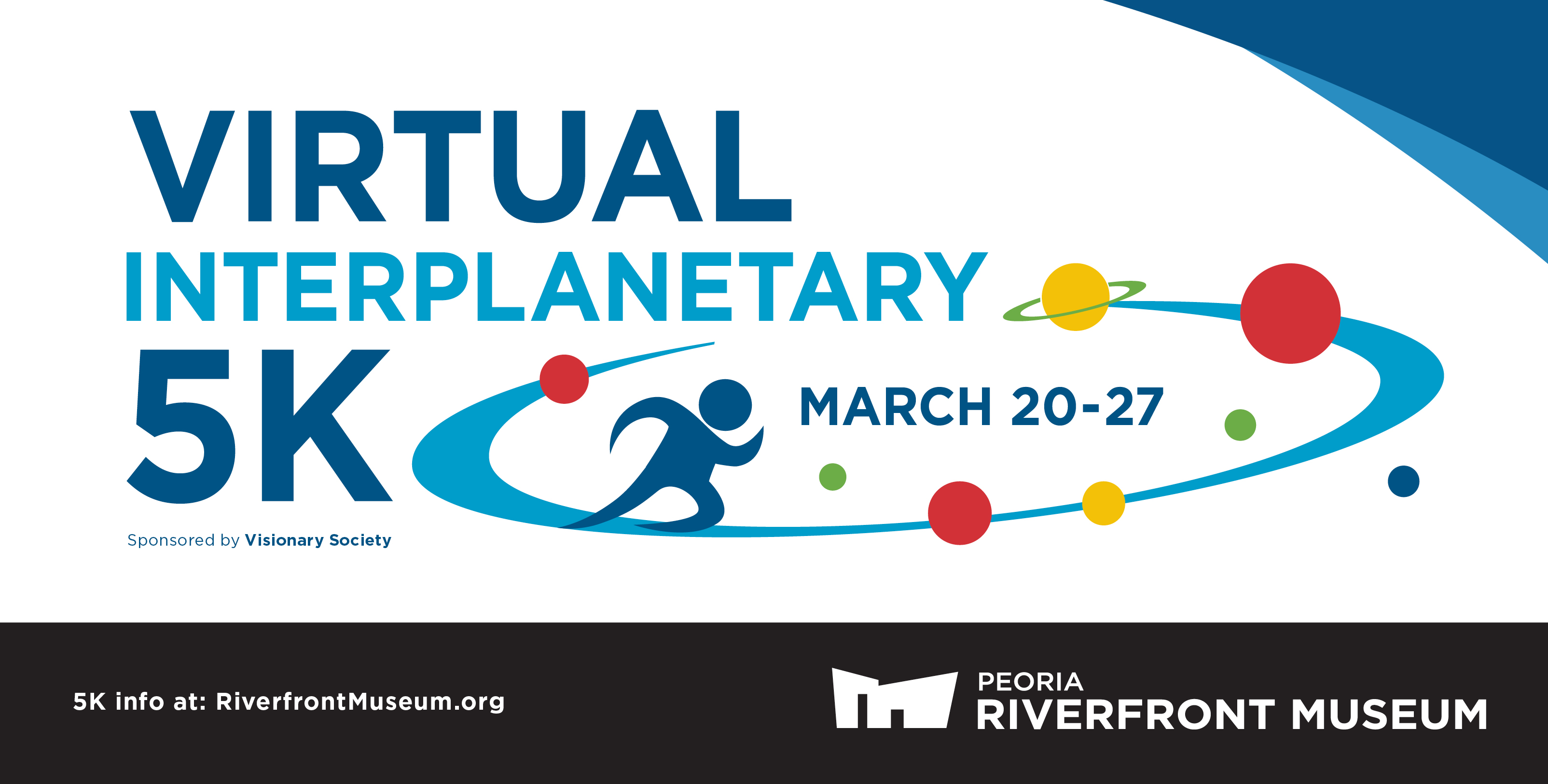 Run the Planets!
Virtual Interplanetary 5K Race + 1 Mile Fitness Walk
UPDATE - January 22, 2021 
The Interplanetary 5K has always been held in March. This has been bad timing for us in 2020 and 2021! Last year, we transferred all folks who had registered for the Interplanetary 5K to 2021, thinking we would certainly be able to race this year. Perhaps in person races can be held this summer (we hope so!) but we do not feel it is a good idea to host an in-person race this March. Therefore, the 2021 Interplanetary 5K will be virtual! - Mike Rucker and Renae Kerrigan
Register by March 1 to guarantee a shirt!
A family oriented race/walk for participants of all ages. 5K Race for all ages,  1 Mile Fitness Walk  (1/2 Mile Kids' Fun Run will return next year)
Walk or run through portions of the Central Illinois Community Solar System, the world's most complete large scale model of the Solar System
Participants will follow the routes of interplanetary explorers through the Solar System, from the Sun - past Mercury, Venus, and Earth - to Mars and back along the Riverfront Trail
It's athletic, it's educational, it's fun... for the whole family!
LOCATIONS
Peoria Riverfront Museum (packet pickup), Gateway Building (start & finish Line)
Course: Entirely flat (no hills) along the Riverfront Trail (from Gateway Building to Detweiller Marina)
TIMES
This event will take place over seven days, from March 20-March 27
Packet Pickup: Beginning Thursday, March 18, 1-5 PM. Packets will then be available during the museum's open hours – Wednesday-Saturday from 10 am to 5 PM, and Sunday from Noon to 5 PM. You can pick up the packets at the museum's front desk. We encourage you to pick up your packets before or during the time of the virtual race, March 20-27. Packets must be picked up by April 4.
Participants are encouraged to run the course to Mars and back any time between March 20-27. The official course map is here.  Here is a still image of the map. Participants can also run any 3.1 mile route. Participants can submit their times online here. 
The official course starts at the towboat propeller behind the Riverplex and finishes near the Spirit of Peoria Steamboat signage. All who run the full 5K route may submit their time for a drawing of prizes. The prize drawing will be at random of the finishers and not based on finishing time.
The pavement is marked with the starting point, one-mile, two-mile, finish, as well as mile markers and directional arrows.
All participants will be able to download a certificate of completion. Those who submit their times will be entered into a drawing for three fabulous prizes. Upload a picture on Social Media using the #Interplanetary5K2021 to share the fun!
Participants can choose to receive a moisture wicking technical race shirt, or skip it for a discount on registration. Must register by March 1 to guarantee a shirt.
FEES
5K Race (3.1 miles): $25, without shirt: $20
1 Mile Fitness Walk: $20, without shirt: $15
Make checks payable to "Peoria Riverfront Museum"
REGISTRATION 
Note - if you registered in 2020, you should already be registered for this virtual 5K.
T-Shirt:
All race participants pre-registered by March 1 have the option to receive a gender specific moisture-wicking technical T-shirt. Participants may also choose not to receive a shirt, for a discounted entry fee.
PACKET:
Included in your packet will be a one day pass to the Peoria Riverfront Museum, a sticker showing your out-of-this-world mileage, a moisture-wicking t-shirt (if you chose that option), coupons and more!
PRIZES:
All participants will be entered into a drawing for three prizes. The prizes include a set of four passes to our summer exhibition "T. Rex: The Ultimate Predator", a set of four tickets to our Giant Screen Theater, and one Family Membership to the Peoria Riverfront Museum, enabling free admission for one year.
Inquires: please contact Renae Kerrigan at rkerrigan@peoriariverfrontmuseum.org or 309.863.3030.
Checks can be mailed to:
Peoria Riverfront Museum
222 SW Water St
Peoria, IL 61602