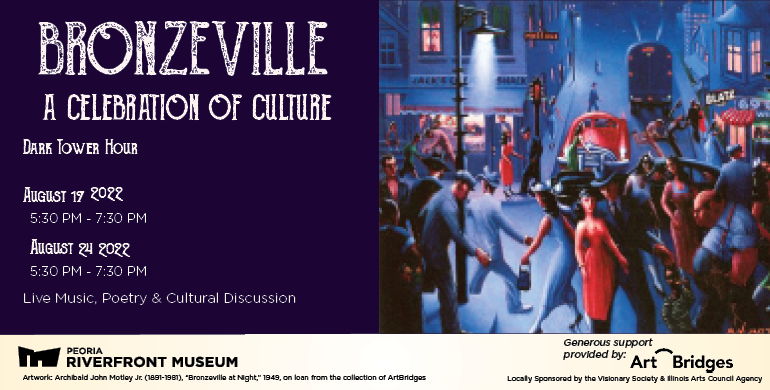 BRONZEVILLE: A CELEBRATION OF CULTURE
DARK TOWER HOUR
WED, AUG 17 & 24 | 5:30 PM
Sun Plaza
Peoria Riverfront Museum's Sun Plaza
Free & Open to the Public
Celebrate a fusion of art, music, food, culture and history from Chicago's Bronzeville neighborhood during the Black Renaissance (1917-1930s), with this special series of events inspired by Archibald Motley's vibrant painting "Bronzeville at Night," on loan from Art Bridges, and Preston Jackson's "Bronzeville to Harlem: An American Story," at Peoria Riverfront Museum.
Join us Wednesday evenings in August on the Sun Plaza for DARK TOWER HOUR, featuring live music, poetry & cultural discussion. Featured artists: Peoria-born jazz saxophonist & composer GREG WARD, R&B Artist GREG STEWART, and Peoria-raised poet, MC & DJ BRANDON ALEXANDER WILLIAMS.
DARK TOWER HOUR is a modern homage to A'Lelia Walker's Dark Tower Hour of the Harlem Renaissance. The Dark Tower, a cultural salon created by Walker, became legendary as one of the gathering places of the era, a place where Harlem's talented artists socialized with their Greenwich Village counterparts as well as European and African royalty. Walker (born Lelia McWilliams; June 6, 1885 – August 17, 1931) was an American businesswoman and patron of the arts.
WED, AUG 17 | 5:30 - 8:30 PM
Jazz Saxophonist GREG WARD & the GREG WARD QUARTET
R&B Artist GREG STEWART feat. THE GRUV XPERIMENT
RESERVE FREE TICKETS HERE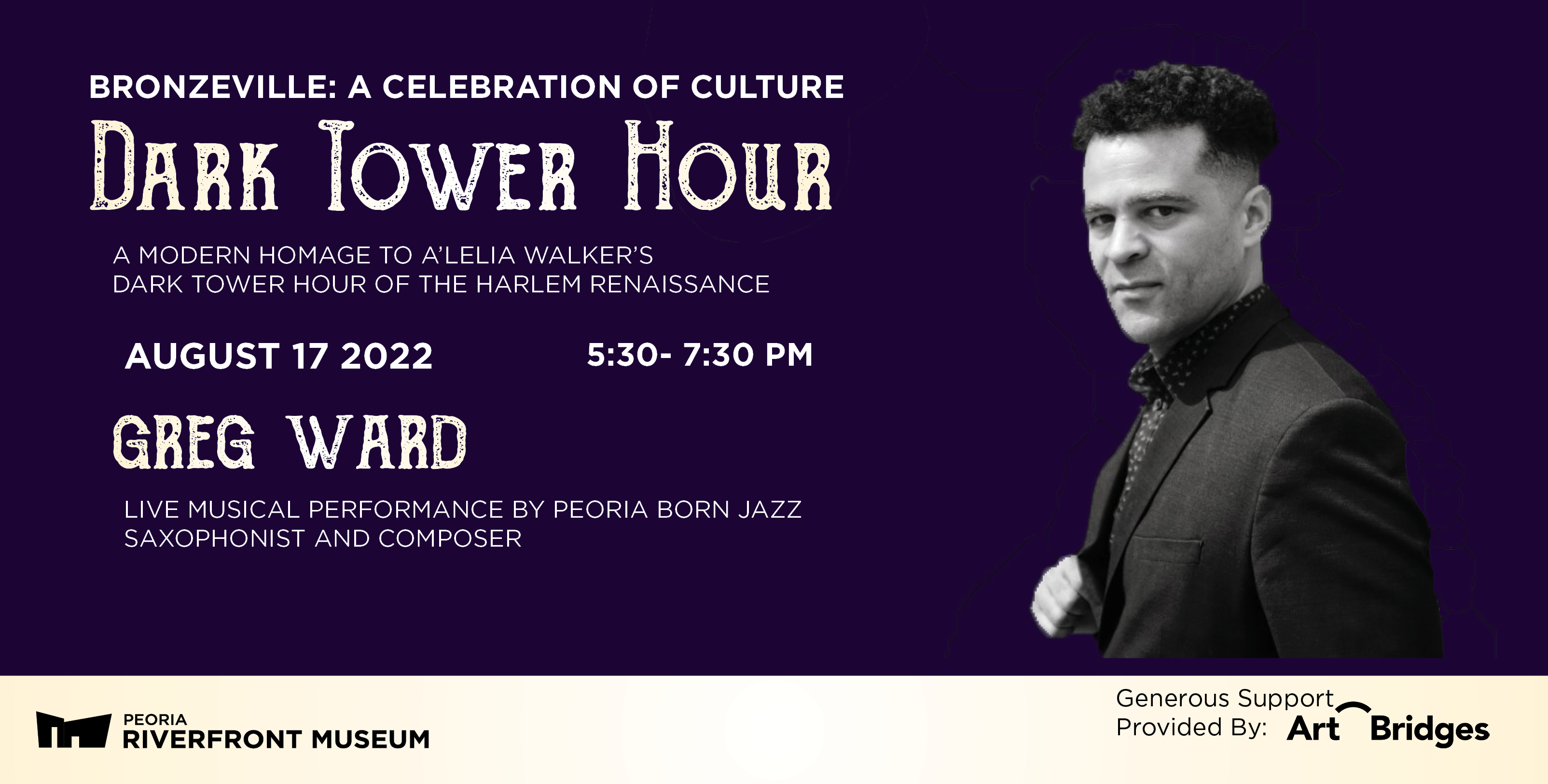 WED, AUG 24 | 5:30 - 7:30 PM
Poet, MC & DJ BRANDON ALEXANDER WILLIAMS
RESERVE FREE TICKETS HERE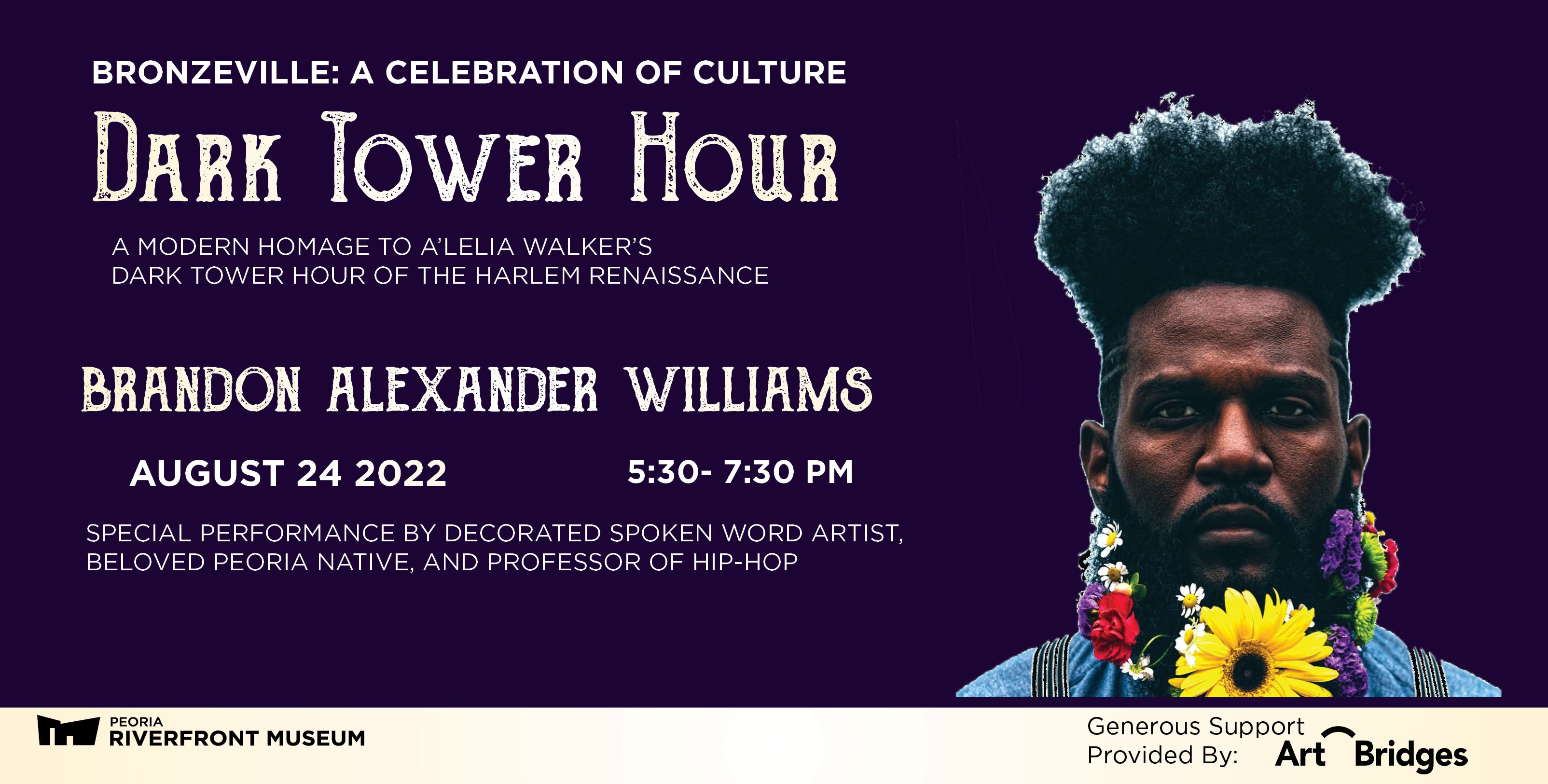 ---
EVENT SPONSORS
Generous support for this project provided by Art Bridges.
Locally sponsored by Peoria Chamber of Commerce, Illinois Black Chamber of Commerce, Visionary Society & Illinois Arts Council Agency.
---
Artwork: Archibald John Motley Jr. (1891 - 1981), "Bronzeville at Night," 1949, on loan from the collection of Art Bridges.