Registration for Summer Camp at the Museum is now open!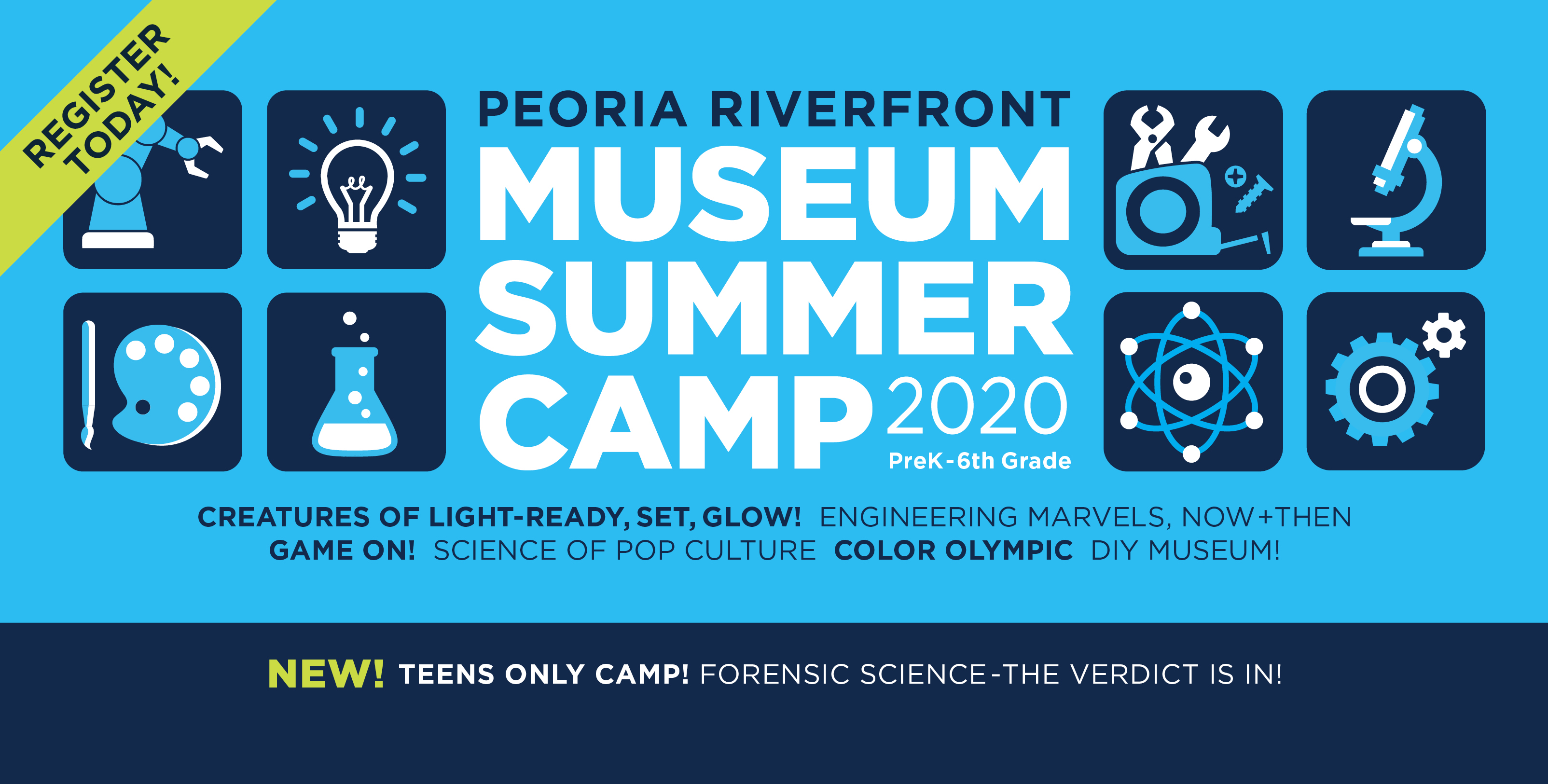 Register Online Now - click here.  
Already registered? Don't forget to download your 2020 Camp Confirmation Packet to fill out and return at least 2 weeks before camp starts - click here.
Questions? Visit Our Frequently Asked Questions Page - click here . 
Peoria Riverfront Museum Summer Camp 2020 is right around the corner, and you won't want to miss out on any of our SEVEN exciting weeks! Join us as we build bridges, explore the depths of the earth, travel to the farthest reaches of space, dabble in ooey-gooey science, refine our artistic sensibilities, create our own video games and much more!
PRM Summer Camp Mission Statement
Through a safe and creative environment that inspires multi-disciplinary learning and nurtures friendships, we encourage and empower children's confidence to unleash their unique talents into the world.
Su mmer Camp 2020 Weeks:
Week 1 |  June 8-12
"CREATURES OF LIGHT" - READY, SET, GLOW!
Join us for a week of "seeing the light" and understanding the science of nature's bioluminescence. Take a closer look at the role that light plays in the world around us while exploring real life magical creatures in our newest exhibition, "Creatures of Light". Get up close and personal as you touch living yellow stingrays and learn about their natural biofluorescence. Have fun with hands-on STEAM-focused activities that will shed light in the darkest caves, the deepest seas, and your backyard!
Week 2 | June 15-19
ENGINEERING MARVELS, NOW + THEN
Wedges and wheels, pulleys and planes, oh my! Stimulate increased knowledge in robotics, architecture, history, science, and math in this fun-filled week about the engineering marvels surrounding us. Incorporate problem-solving skills as you tinker and build with common materials and the Museum's 3D printers and robots. Learn about the amazing engineers of the past, present-day engineers, and what you can do as a future engineer!
Week 3 | June 22-26
GAME ON!
Create & play! Learn how games evolved from traditional board games to the tech world, but sportsmanship is always in style. Collaborate with other campers to design a dream life-size game. We have partnered with Game On Illinois! Be ready for a personalized virtual reality experience and have fun in a mobile gaming trailer equipped with Xbox and PlayStation.
Week 4 | July 13-17
SCIENCE OF POP CULTURE
Sabers, sorcery, superheroes, spells, and more! Experience wizardry and wookies as we bring your favorite books and movies to the Riverfront Museum. Your Campers will have fun with lasers and learn about intergalactic space travel as they attend star-gazing shows in the Planetarium. we'll cook up chemical concoctions, fizzing fairy potions, and much more in this fantastic week of camp!
Week 5 | July 20-24
COLOR OLYMPICS
Tokyo has nothing on us as the Summer Games come to the Peoria Riverfront Museum! Learn about the history behind the Olympics and the different cultures around the world that participate. Collaborate with your camp team to design your Olympic uniform and flag for the opening ceremony. Then go for the gold as you compete in daily inclusive challenges. All campers will be take home a medal for memories.
Week 6 | July 27-31 
DIY MUSEUM
If I ran the Museum … Guaranteed to be a week of teamwork and creativity, kids will learn what it takes to create an exhibit at the Museum. Teams will work together, create masterpieces, talk to museum professionals, get a behind the scenes look at the inner workings of a museum, and much more! You will collaborate and work with Museum staff in teams to plan, organize, and present their exhibitions.
Week 7 | August 3-7, Teen Week!
FORENSIC SCIENCE, THE VERDICT IS IN!
Case closed! Follow the clues to test your critical thinking skills by working in teams to gather evidence and solve a crime at the Peoria Riverfront Museum. Learn about DNA and fingerprint analysis, as well as the role that medicine, law enforcement, and the legal profession play in our justice system. Guest lecture by a Forensic Scientist at the Illinois State Police Laboratory.
Must be entering into 7th grade in Fall 2020 to attend.
Summer Camp Fast Facts
Family Memberships start at $110. Click here or contact the Membership Coordinator at 309.863.3042 or membership@peoriariverfrontmuseum.org to become a Member and save on your summer camp registration today!
Half Day Camp
8:30 am -11:30 am
$140 Members | $170 Public
Grades: PreK ages 3 to 1st grade (based on grade child will be entering in Fall 2020)
Full Day Camp
8:30 am-4 pm
$260 Members | $312 Public
Grades: Kindergarten-6th grade (based on grade child will be entering in Fall 2020)
After Care: $50 flat rate for the week
Drop-off Camp Hours 
Full-day camp is in session from 8:30 am-4 pm (morning snack provided)
Half-day camp is in session from 8:30-11:30 am (no half-day lunch)
First day drop-off (Monday) only begins at 7:45 am On all other days (Tuesday-Friday) drop-off begins at 8 am
Any campers arriving earlier than the stated drop-off times will be charged an Early Drop-Off Fee.
Pick-Up
Full-day camp pick-up ends at 4:15 pm
Half-day camp pick-up ends at 11:45 am
Any campers picked up later than the stated pick-up times will be charged a Late Pick-Up Fee unless they are enrolled in After Care
Lunch 
Full-day campers will have a 30 minute lunch in the auditorium with supervised activities. Campers may bring a sack lunch. Please Note, all packed lunches must be nut free! Nut Free includes Peanuts, Almonds, Brazil nuts, Cashews, Chestnuts, Filberts, Hazelnuts, Hickory nuts, Macadamia nuts, Pecans, Pistachios, Walnuts.
After Care 
After Care is $50 flat rate for the week, use it when you need to! Runs from 4-5:30 pm daily
Early Drop-Off | Late Pick-Up Fees 
The museum reserves the right to impose a $5 fee for every 5 minutes that a camper is at the Museum before or after their designated times.
Refunds | Withdrawals | Cancellations 
We ask for at least one month's notice if you plan to cancel or withdraw from a week of camp. A full refund will be given to a camper who withdraws from a camp at least two full weeks prior to the start of their camp minus a $25 processing fee. A 50% refund will be given upon withdrawal less than two weeks before camp begins minus a $25 processing fee. No refunds are given once camp begins.
For more info or to register, call the Front Desk at 309.863.3069.