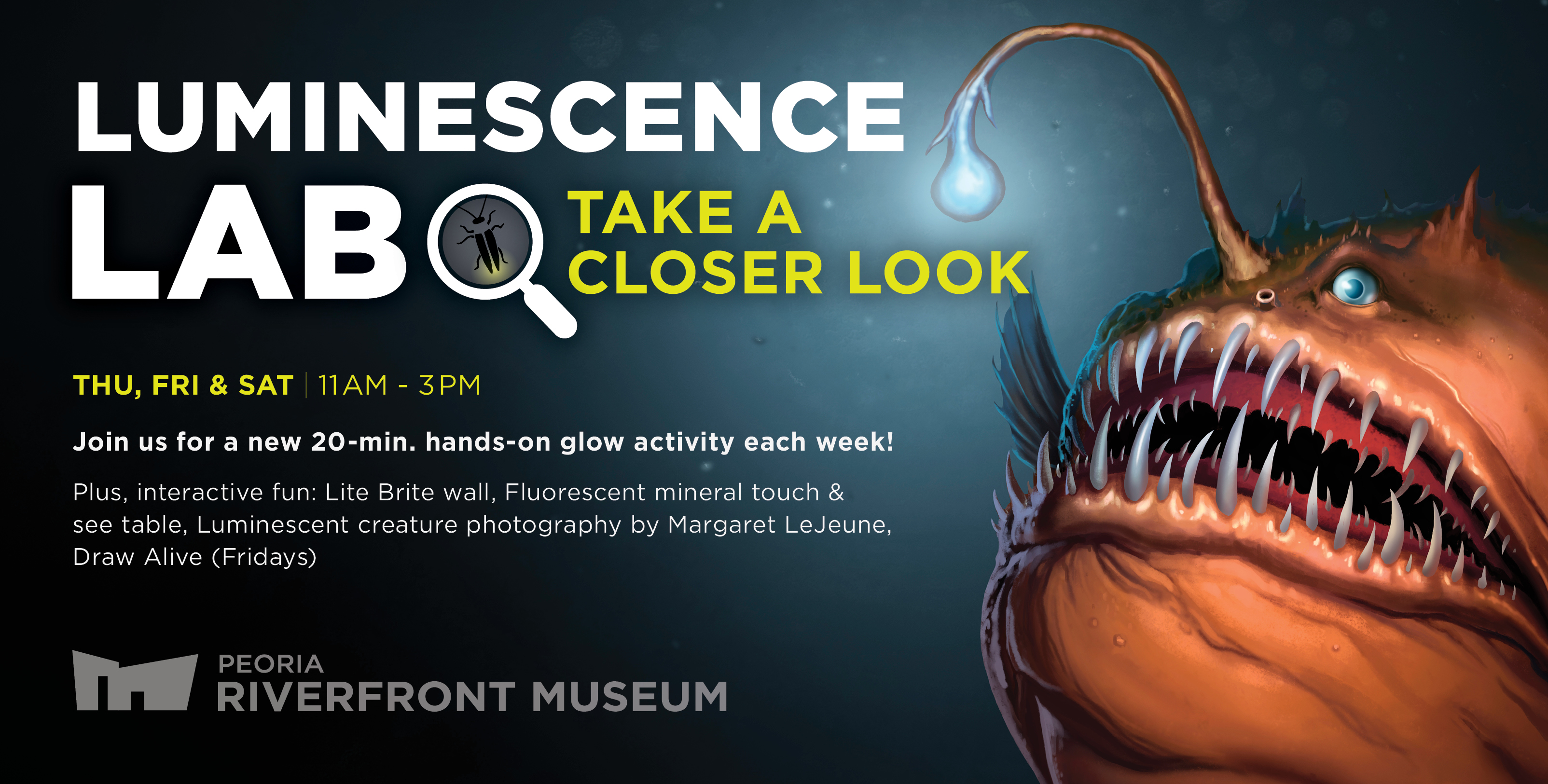 CREATURES OF LIGHT
LUMINESCENCE LAB
Opens June 9 | Every Thursday, Friday & Saturday | 11 AM - 3 PM
Kids, join us for a 20 minute hands-on glow activity every Thursday, Friday and Saturday! Each week you'll discover a new activity, so come back and see us all summer! Friday is Draw Alive day, where participants design a bioluminescent sea creature that comes alive on screen!
The lab is equipped with:
Lite Brite wall
Fluorescent mineral touch & see table
Luminescent creature photography by Margaret LeJeune
NEW weekly luminescent activities
Draw Alive (Fridays)
WEEKLY LAB SCHEDULE
June 9 & 11: Observation Journals – this one is pretty cut-and-dry, we'll be pre-cutting the paper, but the participants will be folding paper, decorating the covers, and securing everything with hole punches and yarn (holes will be punched by LL staff/volunteers). They get a nifty little Invisible Ink pen to write in their journals with!
June 16 & 18: Glow-in-the-Dark Fireflies- The glow-in-the-dark fireflies have a painted plastic spoon as the "light", black construction paper wings, and pipe cleaner heads. We will be using hot glue and paint.
June 23 & 25: Chalk Rubbings – we will be using stencils and chalk to create a paper jar full of fireflies!
June 30 & July 2: Morse Code Beaded Bracelets – another simple one, although the lacing pattern/knots may be difficult for our little learners…we'll be using colored beads to spell out words in Morse code (one color will be "dots", one color will be "dashes", and a third color will be the space in between the letters/ends of the bracelets).
Tickets
Non-Members: $5/activity
Members: $3/activity
Visionary Society Members: Complimentary
Take home crafts & a glow prize!
Purchase tickets click here.
Please reserve your ticket in advance as there is a limited number of activity kits and spots available. Tickets & more info also available at the Museum or by phone at 309.686.7000.