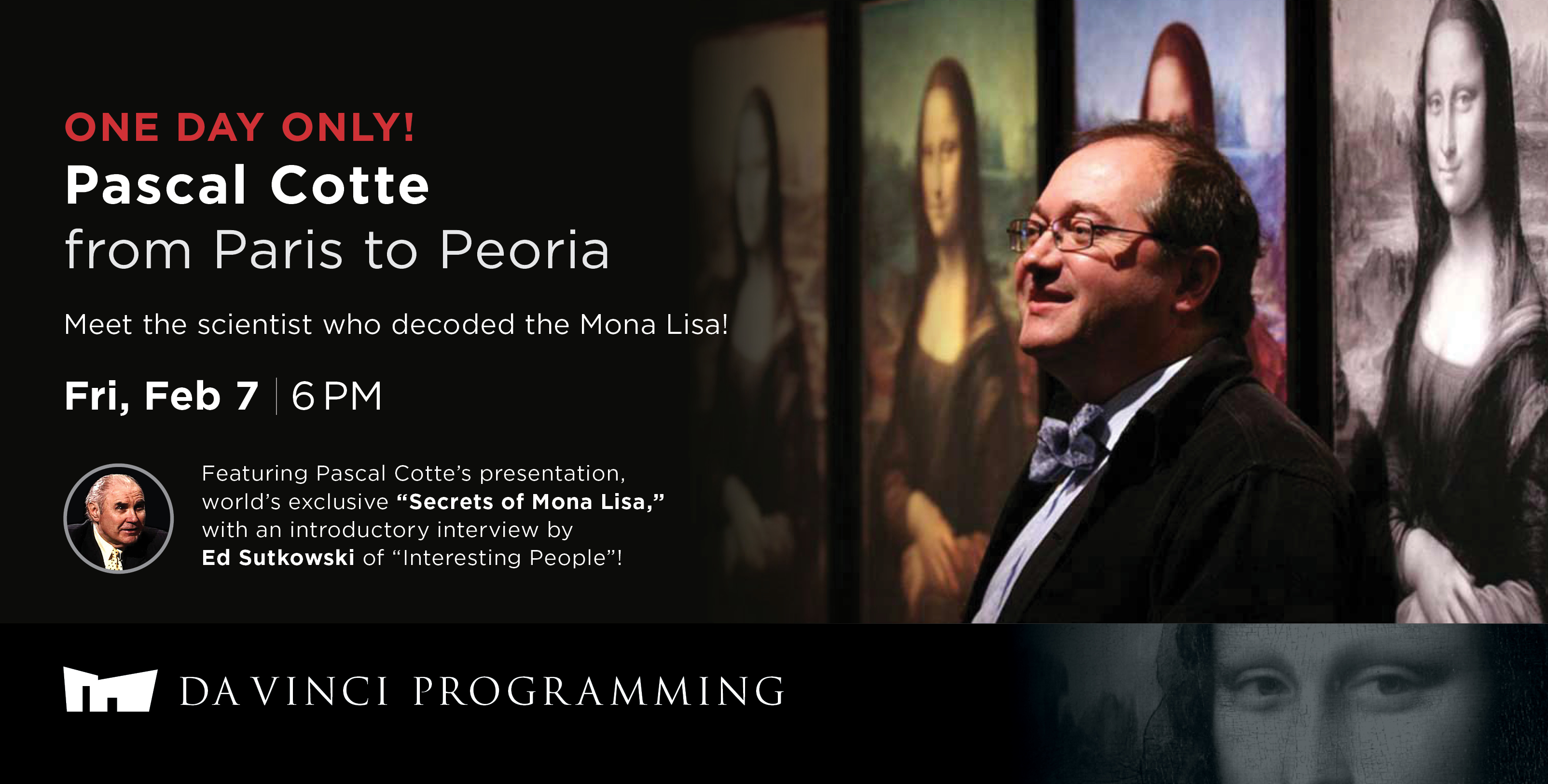 Pascal Cotte, from Paris to Peoria!
Meet the scientist, featured in the PBS NOVA special, who decoded Leonardo da Vinci's "Mona Lisa"! 
Fri, Feb 7 | 6 pm
Giant Screen Theater, Grand Lobby
Featuring a special introductory interview by Ed Sutkowski.
Coming all the way from Paris, meet renowned scientific engineer, examiner, and photographer of fine art, Pascal Cotte, the man who decoded the "Mona Lisa". Learn about the process he invented to photograph the "Mona Lisa", his experiences with Da Vinci's famed work of art, and much more as he shares his story in Peoria's Giant Screen Theater. Pascal Cotte was featured in the PBS "NOVA" special, "Decoding da Vinci."
Reception with light refreshments and a book signing to follow in the Grand Lobby.
$10 Members | $15 Public
Buy tickets online now - click here.
Tickets & more info also available at the Museum or by phone: 309.686.7000.
Pre-order your copy of Pascal Cotte's book! - click here. 
"Lumière on the Mona Lisa, Leonardo Da Vinci: Hidden Portraits : Multispectral Studies Pascal Cotte"
Pre-order closes Monday, January 27 at 5 pm. Limited books available for purchase on the night of the lecture. No refunds on pre-ordered books. Pre-ordered book does not include ticket to lecture, click the link below to purchase tickets to Pascal Cotte's lecture.