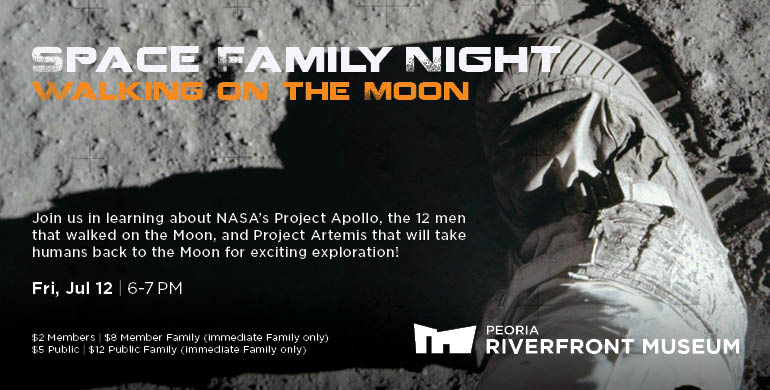 Space Family Night | Walking on the Moon
Fri, Jul 12 | 6 pm
Dome Planetarium
12 men walked on the Moon during NASA's Project Apollo. In 5 years, NASA's Project Artemis aims to send the next man and the first woman to the Moon, near the lunar south pole. Learn about these exciting adventures of exploration while also learning about our mysterious and beautiful neighbor in space. We'll have educational activities related to the Moon, we'll use all of the planetarium's capabilities to explore the Moon, and if the weather cooperates, we'll even use a pretty big telescope to look at the Moon. 
Light refreshments will be provided.
$2 Members | $8 Member Family (immediate family only)
$5 Public | $12 Public Family (immediate family only)
Buy tickets online now - click here.
Tickets & more info also available at the Museum or by phone: 309.686.7000.