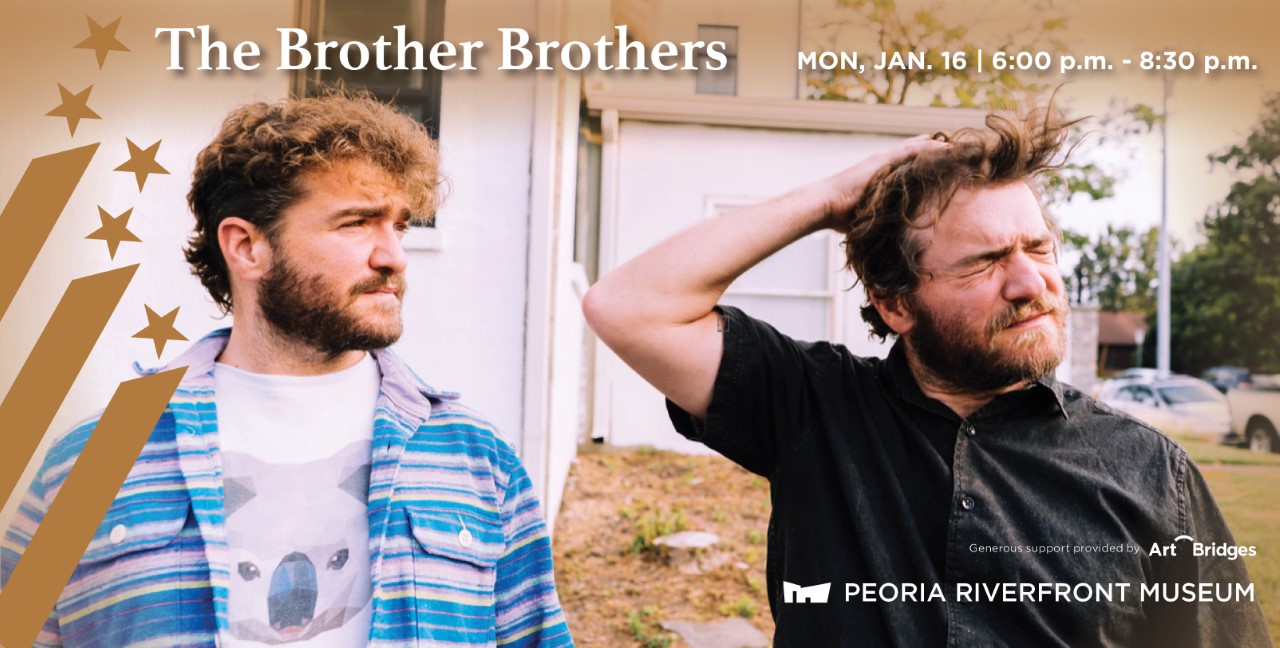 The Brother Brothers
Monday, January 16, 2023 | 6 p.m. - 8:30 p.m.
The Brother Brothers are coming to the Peoria Riverfront Museum!
The duo, known for their stellar musicianship and effortless close harmonies — often compared to Simon and Garfunkel — are on the road for "Cover to Cover", an acclaimed collection that found the Mosses putting their own spin on some of their favorite artists. For the Cover to Cover sessions, they enlisted a cadre of old friends including Rachael Price (Lake Street Dive), Sarah Jarosz, Michaela Anne, Alison Brown, and hired some of Nashville's finest session musicians: Jeff Picker (Ricky Skaggs), Matthew Meyer, Ryan Scott and Michael Rinne. The album was widely praised, with the Associated Press admiring their "crystalline vocal blend" and American Songwriter writing that "the two convey their covers with such reverence and regard that they exude a charm all their own." 
The Brother Brothers currently have over 460K monthly Spotify followers and have been featured on such playlists as Fresh Folk (where they graced the cover), Your Favorite Coffeehouse, Acoustic Chill and many others. While the Brothers have grown into a favorite on streaming services and playlists, their live shows seal the deal, showcasing the duo's haunting, string-driven indie folk songs and the brothers' hilariously dry, deadpan banter. The duo's breakthrough full-length in late 2018, Some People I Know, introduced the duo's thoughtful lyrics and exquisite harmonies to global audiences The duo then enlisted producer Ryan Hadlock (Lumineers, Brandi Carlile) for 2021's Calla Lily, which featured the single "On the Road Again" (check out the whimsical video HERE ). Along with headline tours, the brothers have toured with Courtney Marie Andrews, I'm With Her, Keb' Mo' and others.
PRAISE FOR THE BROTHER BROTHERS:
"wonderful ... fabulous old-time playing and sibling harmony" —NPR
"no matter what musical context Adam and David Moss may come to put themselves in, what the duo want to say through music will always come to show the beauty that exists—even in the deepest cracks—of human living." —AMERICAN SONGWRITER
"close-harmony-fueled folk...should very much appeal to fans of [Simon & Garfunkel]" —BROOKLYN VEGAN
"the warm harmonies and silky melodies of identical twins David and Adam Moss evoke the kind of '60s-era folk tunes that reverberated through dark, wood-paneled bars in the Village…"—NO DEPRESSION
"With fingerpicked arpeggios, a splash of funky electric keyboard, and some close harmonies that suggest Simon & Garfunkel over Willie Nelson, the Brother Brothers offer a bittersweet ode to the touring life and days that seem long past" —ROLLING STONE COUNTRY

Member ticket: $10
Non-member ticket: $15
Get tickets HERE
THANK YOU TO OUR SPONSORS
Generous support for this project provided by Art Bridges.