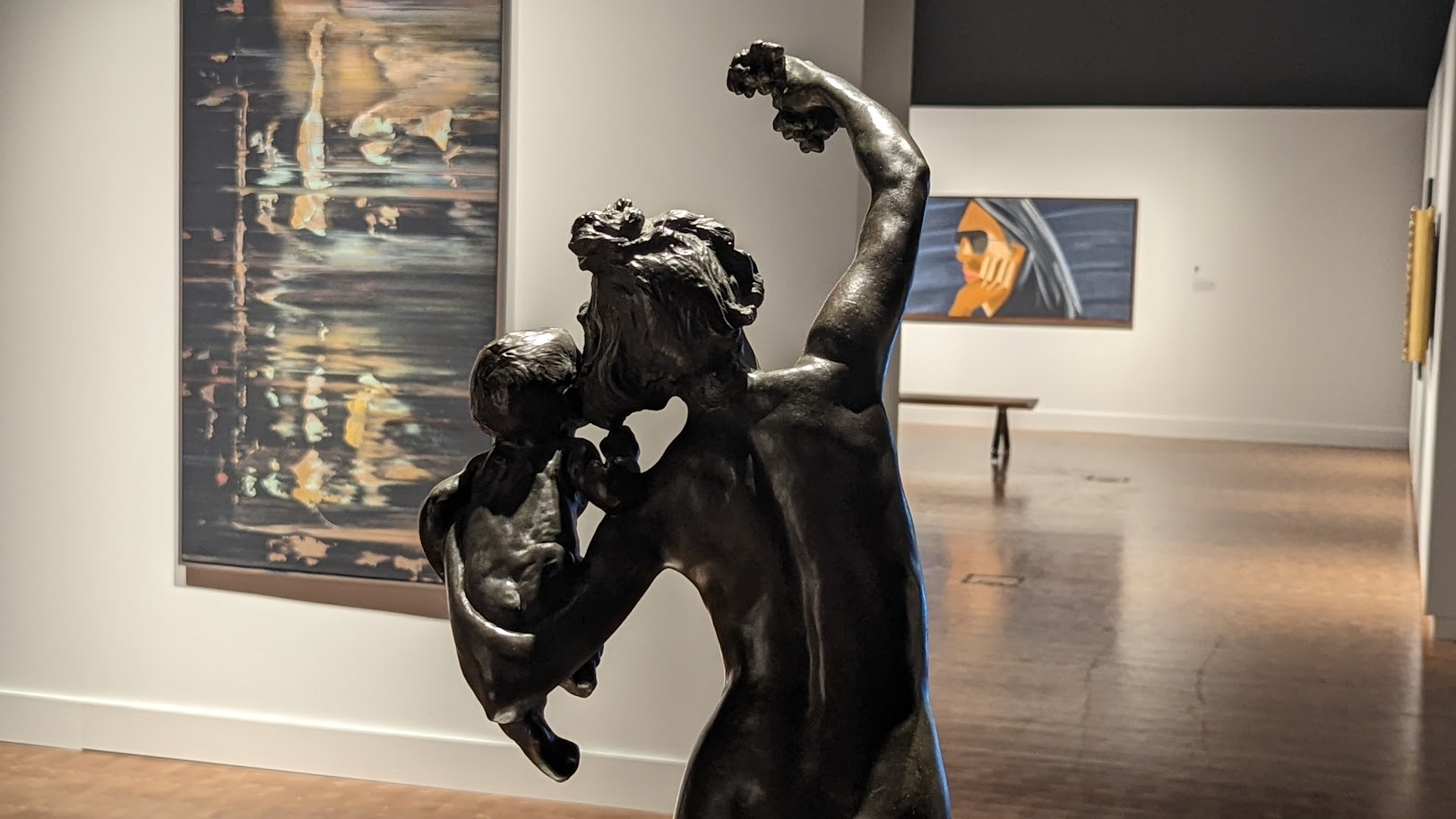 Bacchante and Infant Faun
Frederick William MacMonnies, American
1893-94, cast 1894
The life-size nude, depicting the joyous, fluid movement of a woman (a "bacchante") celebrating while holding an infant, was exhibited at the 1894 Paris Salon to great acclaim. MacMonnies gifted this original casting to his friend, architect Charles Follen McKim, whose firm was building Boston's new public library in Copley Square. McKim offered Bacchante as a gift to the Boston Public Library (BPL) in 1896, to be placed in the fountain of the library's courtyard. It was intended as a memorial for his second wife, Julia Amory Appleton McKim, who had died in childbirth in 1887. 
Both the library board of trustees and the Boston Art Commission accepted the gift, and the majority of public opinion endorsed the placement of Bacchante at the library after it was temporarily installed in November 1896. However, the Woman's Christian Temperance Union, the Watch and Ward Society, the Young Men's Christian Association, and local religious groups caused such a sustained public outcry citing its perceived "drunken indecency" that McKim withdrew the gift in May 1897, to save the Boston Public Library from further controversy.
McKim then gave the statue to the Metropolitan Museum of Art in New York City. The controversy had followed the statue to New York, where there were heated protests and much discussion, but the trustees of the Met decided to stand firm on their acceptance of the artwork. 
The press coverage and notoriety around the refused gift allowed MacMonnies to sell many reduced-size versions. Other castings of the Bacchante in bronze or marble versions of various sizes can be found in the permanent collections of many museums in the United States and France.
According to the Metropolitan Museum of Art, there are four smaller 68-inch bronze versions including this one currently on display at the Peoria Riverfront Museum, on loan from an anonymous donor.