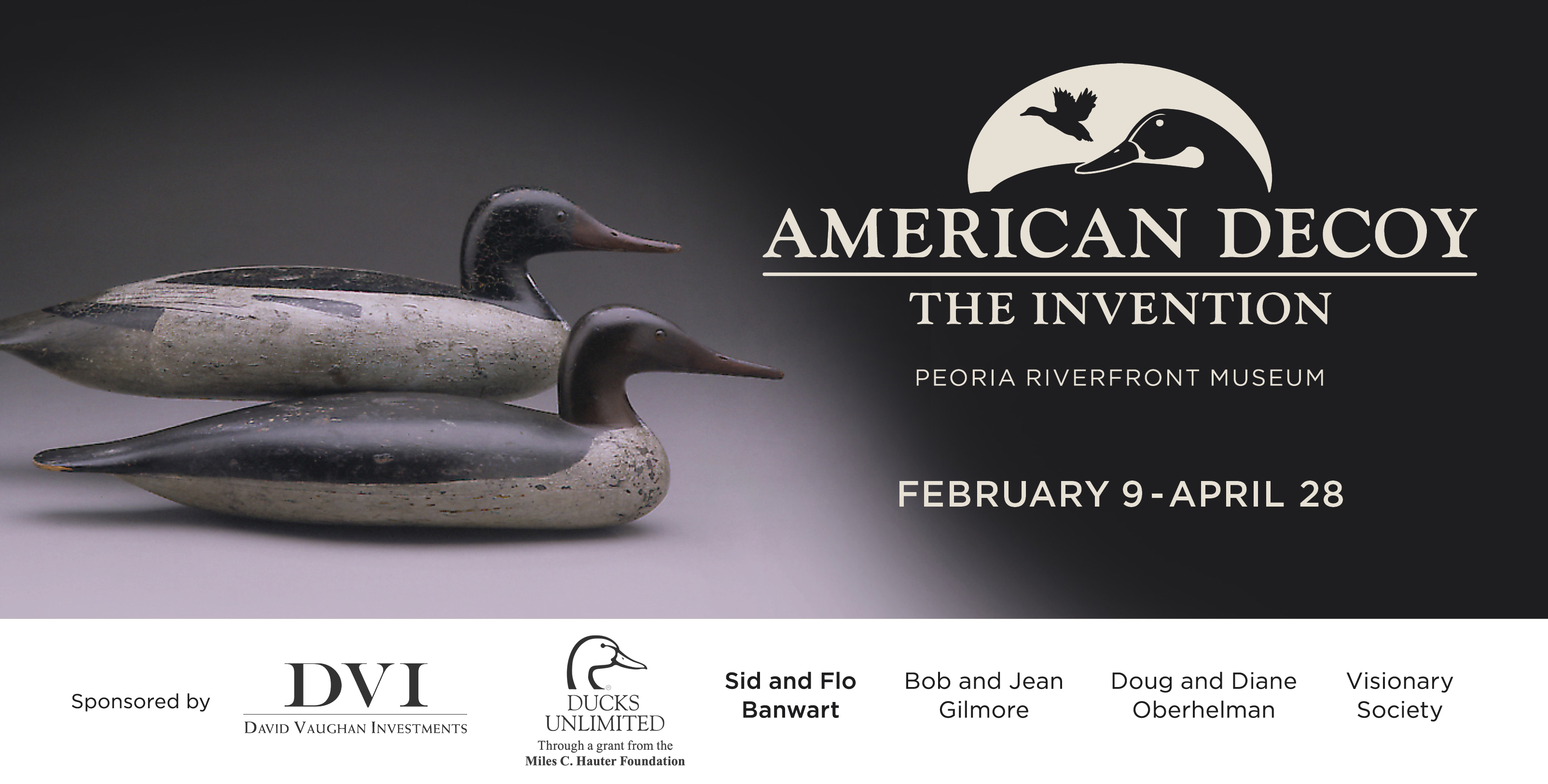 AMERICAN DECOY: The Invention
Opens February 9
From its earliest history as a device luring waterfowl from the air, the decoy has provided subsistence for nearly a millennia. The trajectory of this ingenious craft has evolved into a sophisticated art form which speaks to hunters and artisans alike.
American Decoy: The Invention represents the most valuable collection of art since the museum's predecessor, Lakeview Museum of Arts and Sciences, exhibited The Passion of Rodin. - John D. Morris, President & CEO, Peoria Riverfront Museum
The museum is excited to showcase the largest in-house curated decoy show in our history, which will highlight decoys from our own collection and many others, including the collections of Tom Figge and the Shelburne Museum! - Bill Conger, Curator, Peoria Riverfront Museum
Waterfowl decoys are a uniquely American invention, first created by indigenous tribes 2,000 years ago to attract much-needed sustenance from the skies. Often called the finest visual art form ever created in the United States, the decoy has become an object of art, history and storytelling, coveted by collectors worldwide.
For the first time ever, in the largest museum exhibition of its kind, the Peoria Riverfront Museum will bring together the world's most prized decoys from some of its most prestigious and comprehensive collections. Celebrating carving in the Illinois River Valley and beyond, American Decoy: The Invention will include iconic decoys by famous American artists, many of whom lived in central Illinois along the Illinois River, including Charles H. Perdew (Henry), Charles Schoenheider Sr. (Peoria) and Robert Elliston (Bureau).
A nationally significant art exhibition organized by the Peoria Riverfront Museum, American Decoy: The Invention, celebrates the uniquely American art form with decoys from the museum's permanent collection and key works from the Tom Figge Collection, Joe and Donna Tonelli, Ted and Judy Harmon of Decoys Unlimited, Inc., Ward Museum, Shelburne Museum and Illinois State Museum.
Photo: Charles Schoenheider, Pair of Mergansers, on loan from Thomas K. Figge
The Peoria Riverfront Museum gratefully acknowledges our exhibition sponsors, DVI, Ducks Unlimited (through a grant from the Miles C Hauter Foundation), Sid & Flo Banwart, Bob & Jean Gilmore, Doug & Diane Oberhelman, and the Visionary Society.