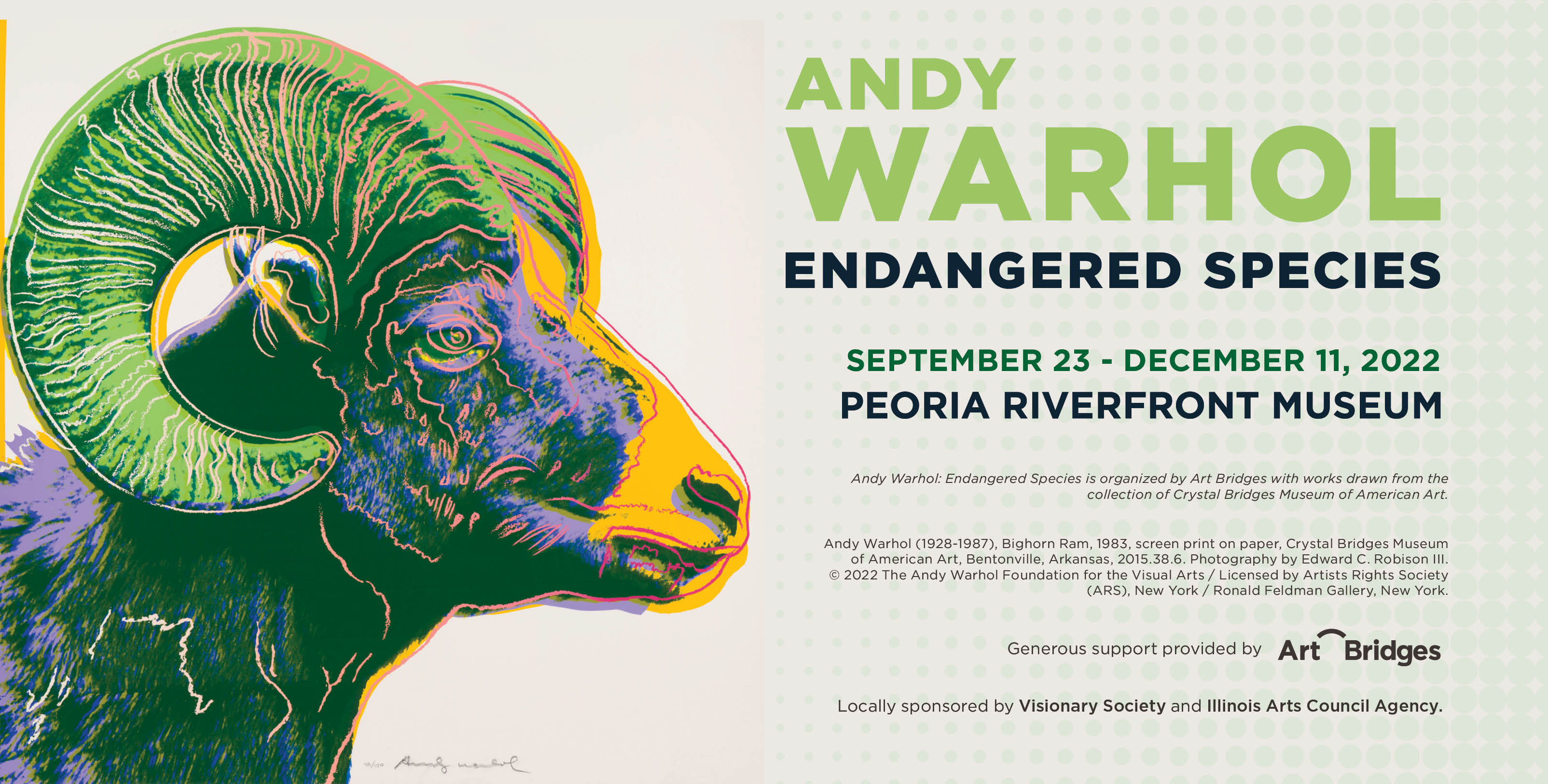 ANDY WARHOL: ENDANGERED SPECIES
September 23 – December 11, 2022
Peoria Riverfront Museum
In 1983, American artist Andy Warhol (1928-1987) created the Endangered Species series, which depicts ten animals that were recognized in the Endangered Species Act of 1973. The screen prints, presented in Warhol's signature pop style, resemble the artist's depictions of celebrities such as Dolly Parton and Muhammed Ali. This stylistic choice allows for a visual elevation of the animals' representation – through oversized portraiture, bold outlines, and vibrant colors – to a type of celebrity or icon.
Warhol created Endangered Species, commissioned by art dealers and environmental activists Ronald and Frayda Feldman, in response to ongoing ecological concerns around the global impact of human destruction of animals and the environment. Warhol made 150 editions of the set of ten screen prints. He donated 100 of these prints to wildlife conservation organizations with the intention that they be auctioned to raise money.
Andy Warhol: Endangered Species features a complete set of the ten screen prints, presented through themes that explore Andy Warhol, visual culture as a tool of activism, and ongoing issues of environmental destruction. In the same way that Warhol's images went beyond simple depictions of endangered species, this exhibition is more than a celebration of art, activism through visual culture, and the natural world. It is a call to remember that we share this planet, and it is our responsibility to make choices that protect and support all living beings.
Endangered Species displayed prints: African Elephant, Bald Eagle, Bighorn Ram, Black Rhinoceros, Giant Panda, Grevy's Zebra, Orangutan, Pine Barrens Tree Frog, San Francisco Silverspot Butterfly and Siberian Tiger.
---
Andy Warhol: Endangered Species is organized by Art Bridges with works drawn from the collection of Crystal Bridges Museum of American Art. 
Image: Andy Warhol (1928-1987), Bighorn Ram, 1983, screen print on paper, Crystal Bridges Museum of American Art, Bentonville, Arkansas, 2015.38.6. Photography by Edward C. Robison Ill. © 2022 The Andy Warhol Foundation for the Visual Arts, Inc. / Licensed by Artists Rights Society (ARS), New York / Ronald Feldman Fine Arts, New York.
THANK YOU TO OUR SPONSORS
Generous support for this project provided by Art Bridges.

Sponsored locally by Visionary Society & Illinois Arts Council Agency.