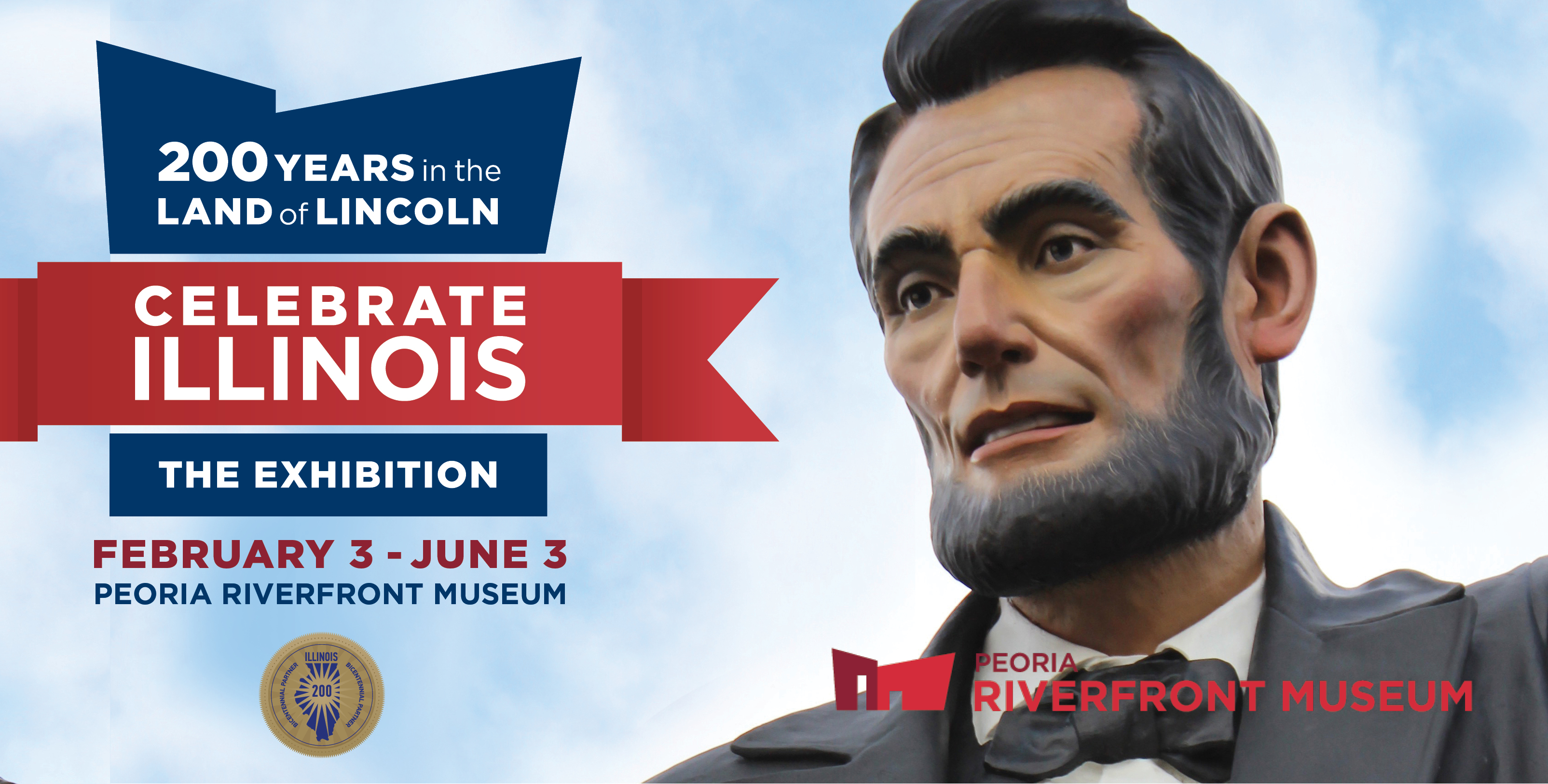 Celebrate Illinois: 200 Years in the Land of Lincoln
February 3 - June 3
This spring, the Museum will be first in the state to host an Illinois Bicentennial exhibition, Celebrate Illinois: 200 Years in the Land of Lincoln, opening Feb. 3, 2018.As part of the state-wide celebration of the 200th anniversary of Illinois becoming a state, Peoria Riverfront Museum is bringing together this unique exhibition which is a collection of state-wide artifacts celebrating the state's influential people, places, and innovations in Illinois history.
The exhibition will showcase objects on loan from the National Park Service/Lincoln Home National Historic Site, Smithsonian American Art Museum, Abraham Presidential Library and Museum, Illinois State Museum, Knox College: Archives, and Galesburg Colony Underground Railroad Freedom Center.
Lincoln himself, as a 31-ft. painted bronze is ushering in the exhibit. The 19-ton "Return Visit" sculpture by artist Seward Johnson was installed on the museum's Water Street side Sept. 19 with the help of 20 Central Illinois individuals and businesses and is on loan for a year by the Seward Johnson Foundation.
Through a selection of artifacts, from the Museum's collection, as well as others borrowed from colleges, professional organizations, other museums and historical societies, visitors will have the chance to discover the 200 years of Illinois history through each object.
Celebrate Illinois is being curated around the concept that objects tell stories and behind each object is a person, and that person has a unique story to tell – a personal insight into the history of Illinois. The objects will highlight both well-known and lesser-known artists, innovators, abolitionists, U.S. Presidents, athletes, entrepreneurs, war veterans, and a few celebrities. 
The exhibition is a unique opportunity for Museum visitors to find inspiration in the number of people and objects that have positively impacted the state's history.