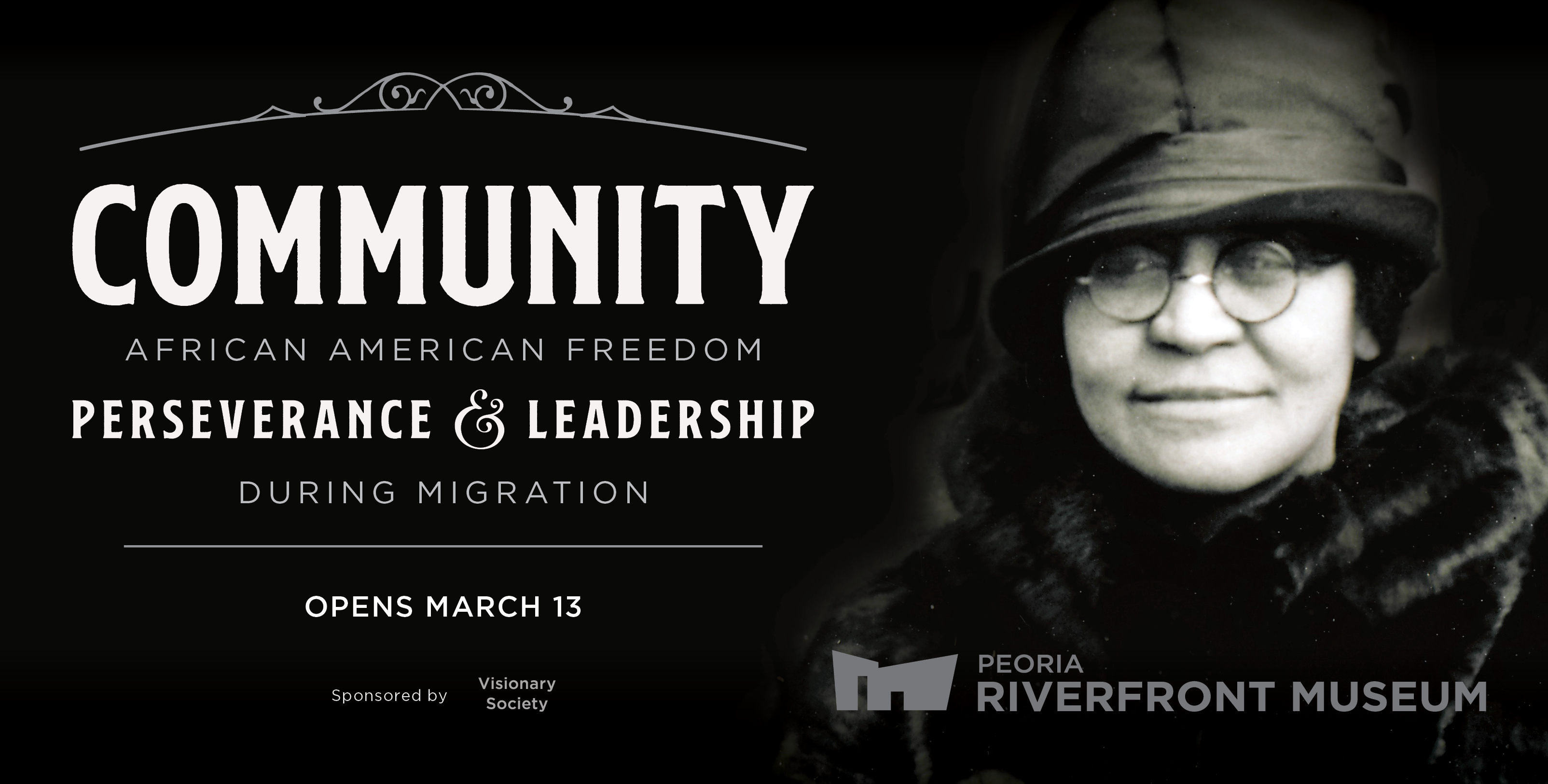 Community: African American Freedom, Perseverance & Leadership During Migration
Now Open
The shaping of America during the 19th and 20th centuries was profoundly affected by the persistence of freedom-seeking Blacks who migrated northward to escape racial persecution and seek out economic opportunity. In the face of the inequities of history, their stories continue to resonate and impact the possibilities for the future.
Both being Illinois towns, Brooklyn and New Philadelphia, the first African American founded communities in Illinois would serve as launch points toward a freer America where black and white pioneers could coexist and true independence was imagined.  African American pioneers established these towns decades before the Civil War and emancipation, and the towns became a place of refuge for freed and freedom-seeking African Americans. The leadership of founders Priscilla Baltimore and Frank McWorter reflected self-determination, independence, and courage. The communities established here and in other early migration destinations helped African Americans find freedom and economic opportunity. 
Despite continued racial tensions and challenges, African Americans found success in urban centers. Former Peoria and Brooklyn, Ill. resident Annie Turbo Malone founded Poro College, a hugely successful cosmetology school located in the Ville community of St. Louis. Malone would become America's first Black female millionaire developing products and techniques that fueled the success of the college.
Peoria Riverfront Museum proudly presents this all-new exhibition with support from New Philadelphia Association, Annie Malone descendant James (Agbara) Bryson, Annie Malone Historical Society, Illinois State Archeology Society, Missouri History Museum, Illinois History and Lincoln Collections University of Illinois at Urbana-Champaign and Frank McWorter descendant Gerald McWorter (Abdul Alkalimat).
Sponsored by Visionary Society.
Photo of Annie Turnbo Malone courtesy of Shirley Bryson archives and James (Agbara) Bryson.