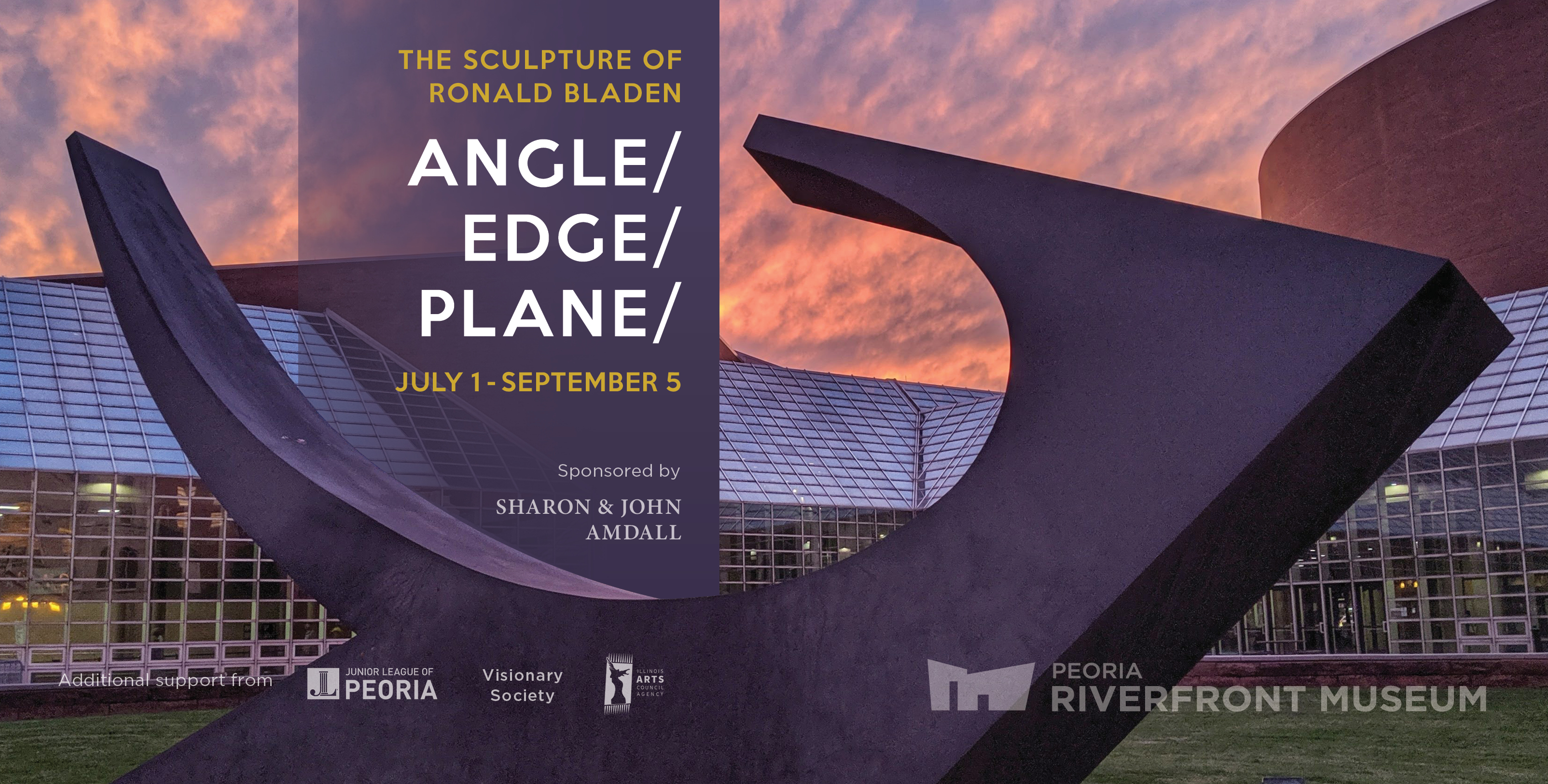 Photo detail: Ron Bladen, Sonar Tide , 1983, gifted by the Junior League of Peoria to the City of Peoria.
The Sculpture of Ronald Bladen: Angle/Edge/Plane
July 1 - September 7
International Feature Gallery
Gifted to Peoria by the Junior League of Peoria in 1983, "Sonar Tide" by renowned sculptor Ronald Bladen (1918-1988) is the most recognized public sculpture in the region. In celebration of Sonar Tide, which was Bladen's last and largest commissioned work, Peoria Riverfront Museum is pleased to bring a collection of models, drawings, and photographs from the estate of Ronald Bladen and the Loretta Howard Gallery in New York, as well as a preparatory image from Harvard Art Museums. This exhibition highlights Bladen's practice as a sculptor who is credited with influencing major Minimalist sculptors such as Richard Serra, Donald Judd, and Sol Lewitt.
PHOTO: Bladen's last and largest public commissioned work, "Sonar Tide," stands in front of the Peoria Civic Center, designed by famed architect Philip Johnson.
View the video on Sonar Tide produced in partnership with WTVP HERE!
Enjoy the fascinating story of Ron Bladen with Chief Curator Bill Conger and Knox College art professor Mark Homes, a student of Bladen, HERE!
THANK YOU TO OUR SPONSORS
The museum gratefully acknowledges our exhibition presenting sponsors, Sharon & John Amdall, with additional sponsorship by the Junior League of Peoria,Visionary Society and Illinois Arts Council Agency.