---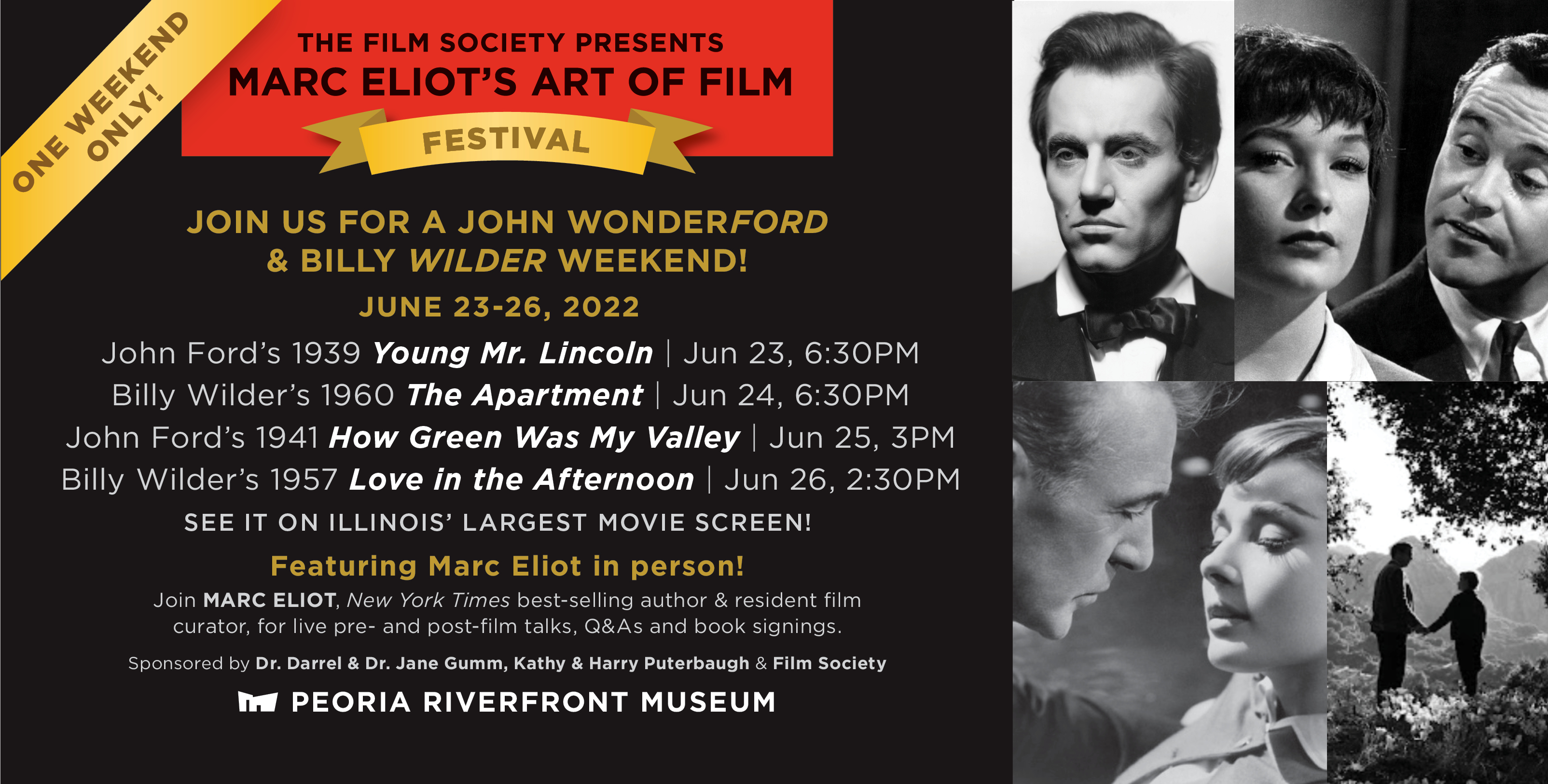 ---
POSTPONED! NEW SCHEDULE SOON!
JOIN US FOR A JOHN WONDERFORD & BILLY WILDER WEEKEND!
---
4 DAYS ONLY!
MARC ELIOT'S ART OF FILM FESTIVAL
JOHN FORD & BILLY WILDER
Peoria Riverfront Museum's Giant Screen Theater
Featuring Marc Eliot in person!
See the Greatest Films on Illinois' Largest Screen, the way they were meant to be seen! Join MARC ELIOT, New York Times best-selling author & resident film curator, for live pre- and post-film talks, Q&As and book signings.
---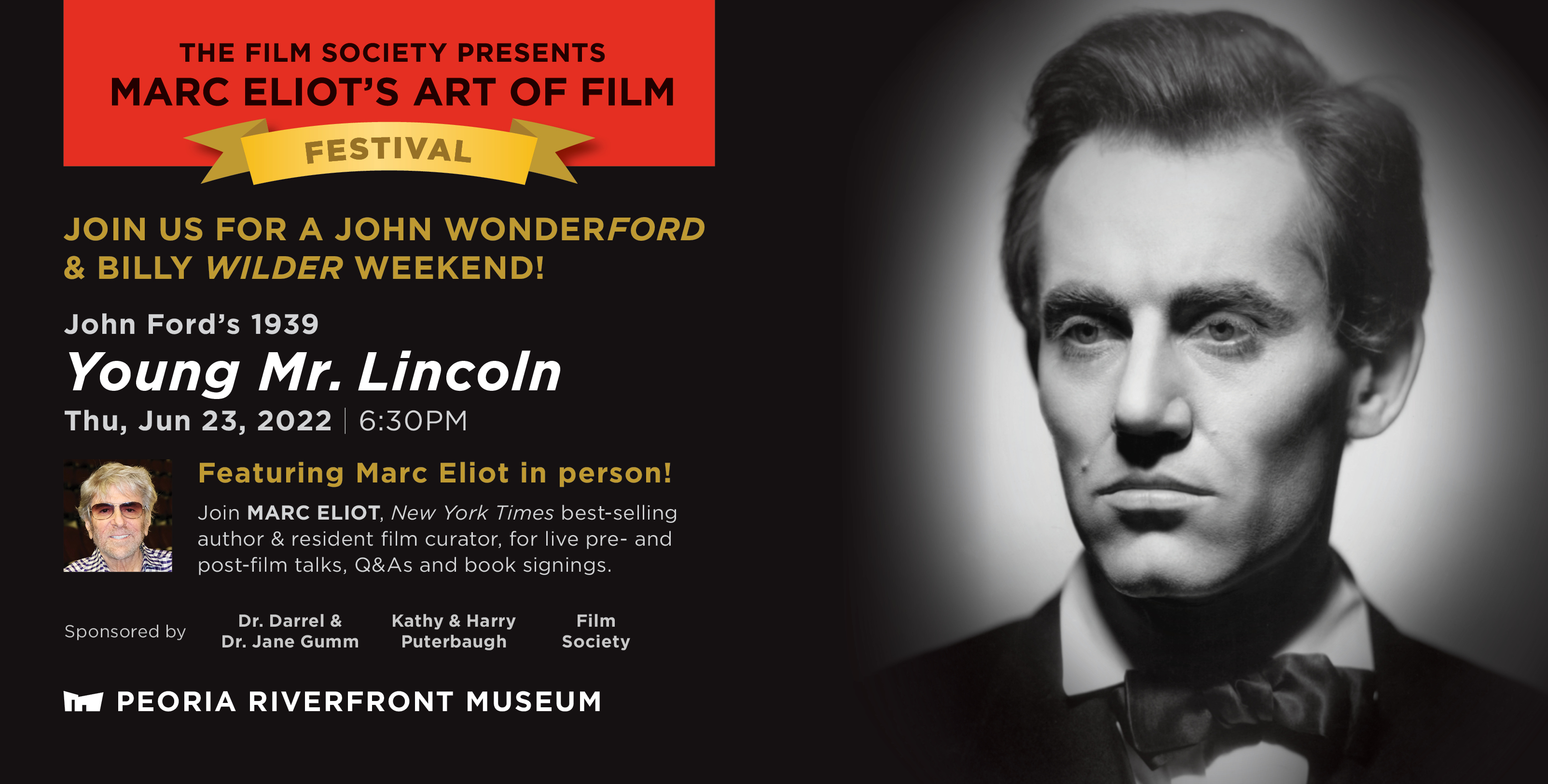 John Ford's 1939 
Young Mr. Lincoln
A film that foreshadows the greatness to come as Abraham Lincoln establishes his great character and walks into his future. Beautifully acted by Henry Fonda, at the time Ford's favorite leading man.
---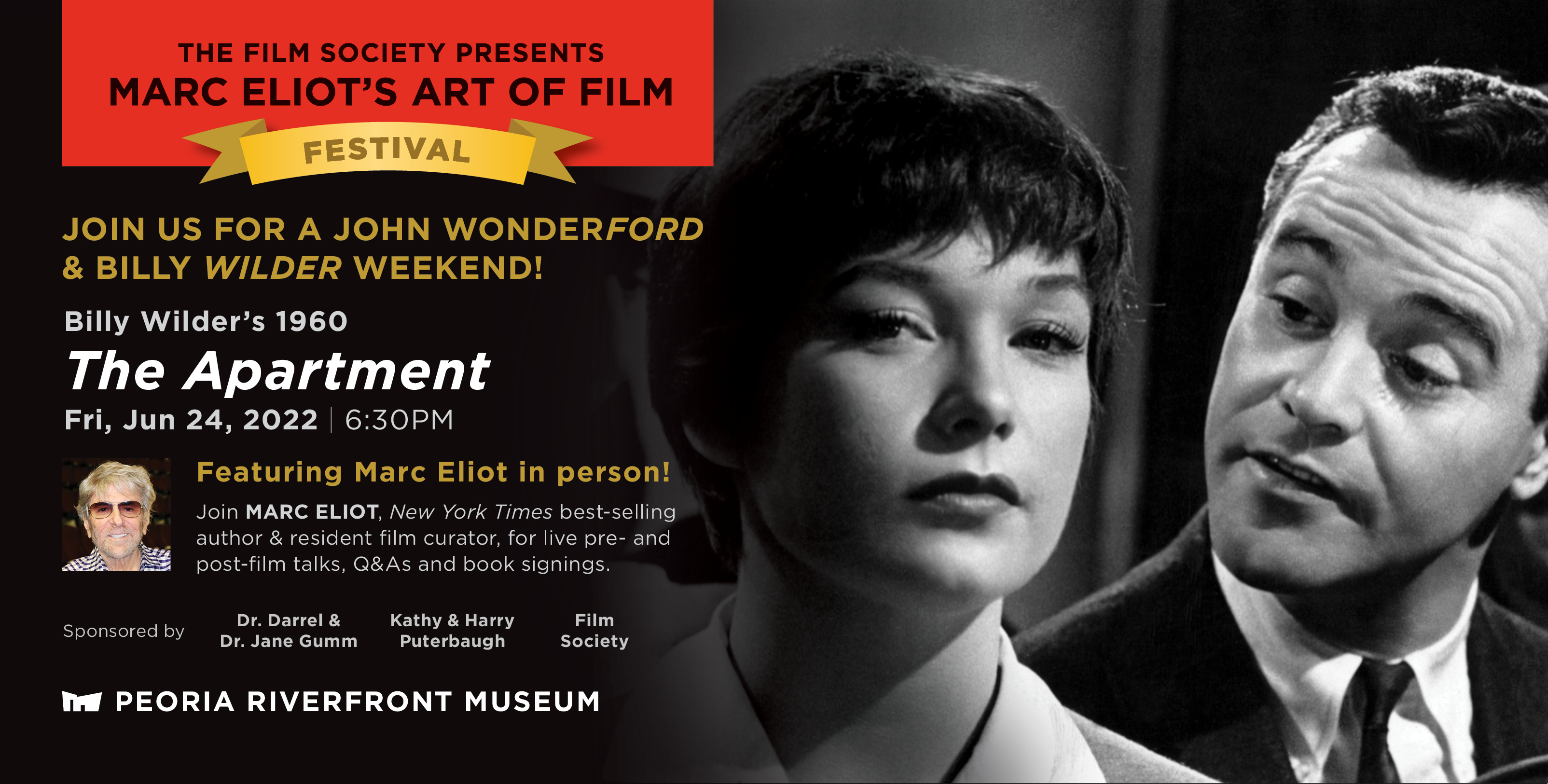 Billy Wilder's 1960
The Apartment
Wilder's follow-up to Some Like it Hot is the best meditation on the difference between love and sex that has ever been filmed. Jack Lemmon stands out as a character looking for one and finding the other; Shirley MacLaine lights up the screen as both the subject and object of his love, or is it sex? And Fred MacMurray plays against type as a rat. Not to be missed!
---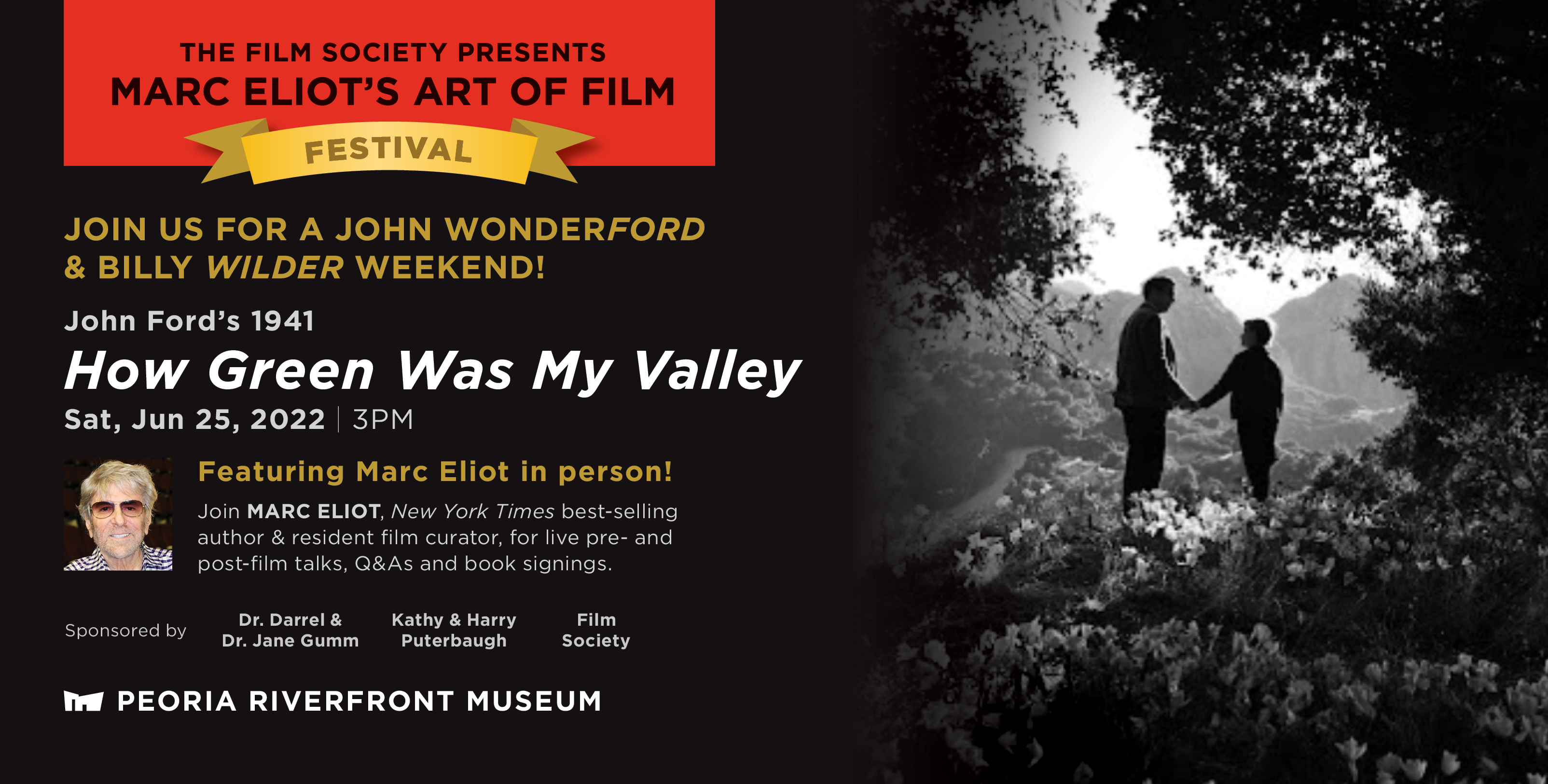 John Ford's 1941
How Green Was My Valley
John Ford's memorable 1941 masterpiece of melancholia, starring a young Roddy McDowell, Maureen O'Hara and Walter Pidgeon, but the film is stolen by the wonderful performance of Donald Crisp. Bring tissues! Winner of seven Academy Awards, including Best Picture of the year; Best Director (Ford); Best Supporting Actor, Donald Crisp; and two technical awards.
---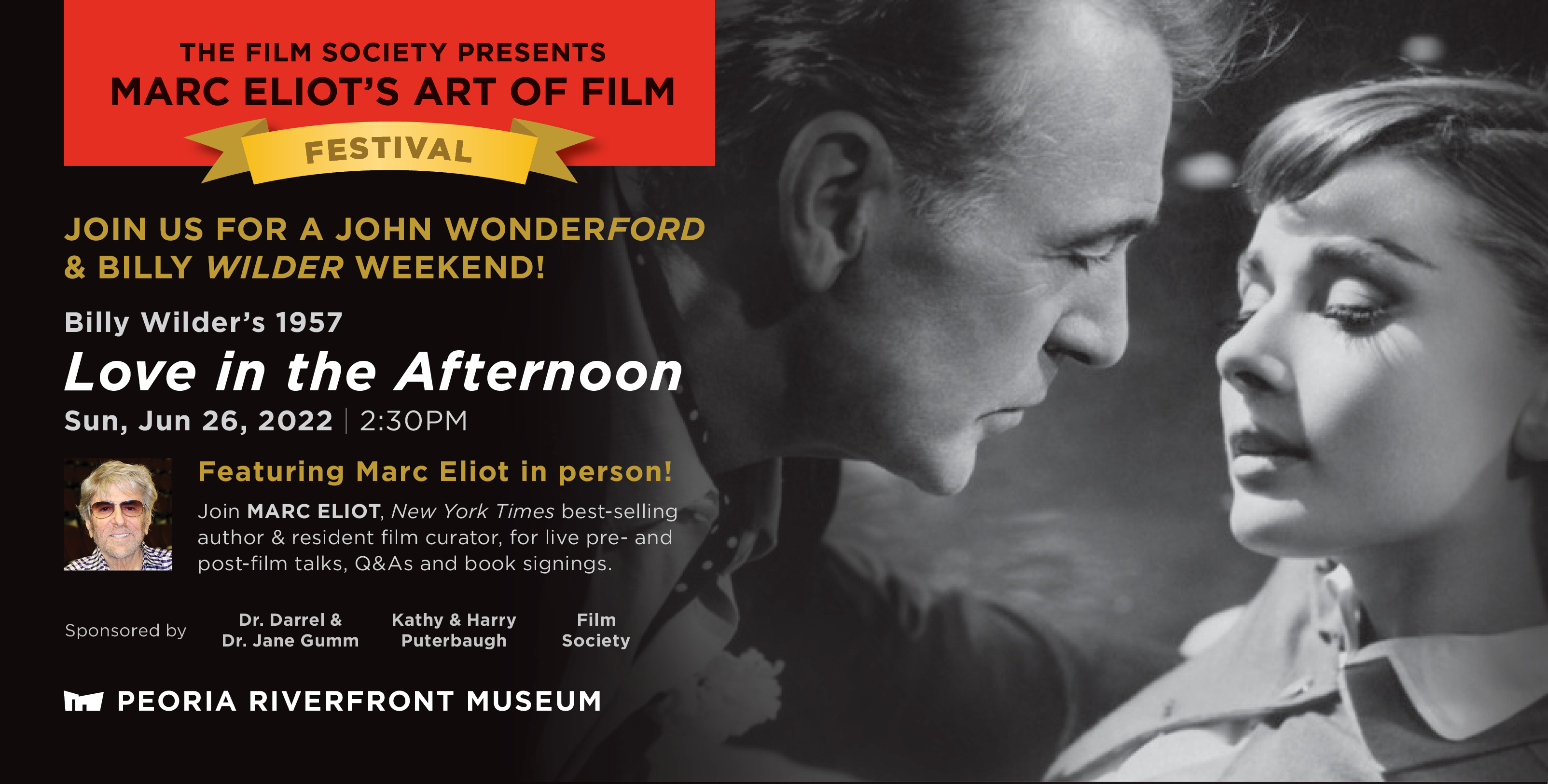 Billy Wilder's 1957 
Love in the Afternoon
Billy Wilder's 1957 May-December romantic comedy, Love in the Afternoon stars a young Audrey Hepburn, an aging Gary Cooper and an old Maurice Chevalier (in his first non-singing role in a decade) as the unholiest of threesomes. Chevalier plays the father of Hepburn who falls in love with Gary Cooper who is twice her age to say the least. Unusual, with the brilliance of Billy Wilder gleaming off every page. Wilder was nominated for Best Director by the DGA (Directors Guild of America).
---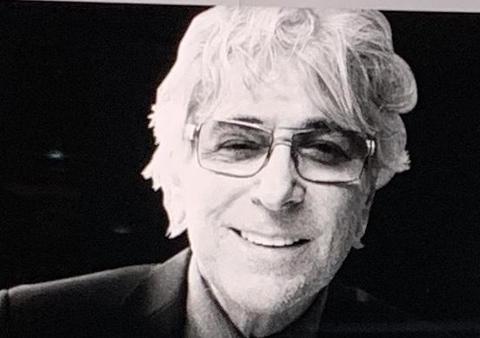 MARC ELIOT
Renowned classical film scholar Marc Eliot is the New York Times bestselling author of 26 books including definitive biographies on Jimmy Stewart, Cary Grant, Charlton Heston, Steve McQueen, Clint Eastwood, The Eagles, and his latest work, The Hag, on Merle Haggard. A New York City native, Eliot began his career as a child actor and student at the High School of Performing Arts and has worked as a musician, television producer and writer for national magazines. He holds an advanced degree from Columbia University, where he was a protégé of film critic, scholar and founder of "auteurism," Andrew Sarris.
Go behind the scenes with Marc Eliot. Get the exclusive Art of Film newsletter. Sign up for Film Society emails HERE!
---
THANK YOU TO OUR SPONSORS
Marc Eliot's Art of Film Festival is sponsored by Drs. Jane & Darrel Gumm, Kathy & Harry Puterbaugh and Film Society.