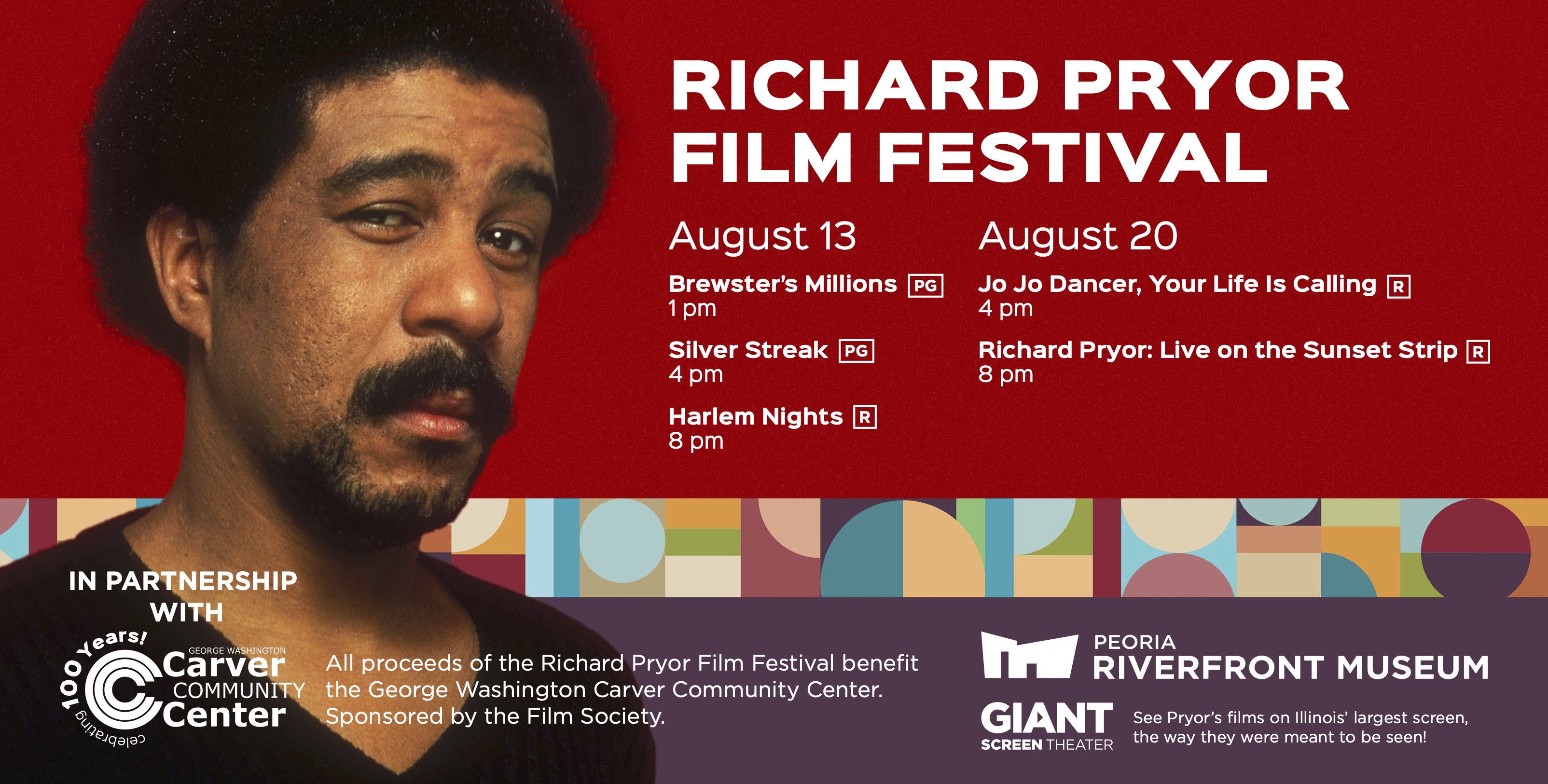 RICHARD PRYOR FILM FESTIVAL
August 13 & 20, 2022
Peoria Riverfront Museum
Giant Screen Theater
In partnership with The George Washington Carver Community Center, celebrating 100 years!
Did you know? Legendary comedian & Peoria native Richard Pryor got his start in comedy at The Carver Center!
Join the Peoria Riverfront Museum and The George Washington Carver Community Center for the Richard Pryor Film Festival, August 13 & 20, 2022! Celebrate the legacy of the world's most famous comedian, Peoria's own Richard Pryor, who influenced the work of all contemporary comedians, as we celebrate the 100th anniversary of the place where it all started, The Carver Center.
See the films that made Pryor famous on Illinois' Largest Movie Screen, the way they were meant to be seen!
All proceeds of the Richard Pryor Film Festival benefit the George Washington Carver Community Center.
Download flyer (pdf) HERE
SATURDAY, AUGUST 13
BREWSTER'S MILLIONS
AUG 13 | 1 PM | RATED PG
Purchase ticket HERE
After losing his position as a minor-league pitcher, Montgomery Brewster (Richard Pryor) learns his great-uncle has left him $300 million. To inherit it, Brewster must spend $30 million in 30 days under a complicated set of rules that forbid him from donating too much to charity or retaining any new assets when the period is up. Unable to share details about the will's odd conditions with anyone, Brewster sets out to spend his money under the stern eye of paralegal Angela Drake (Lonette McKee).
SILVER STREAK
AUG 13 | 4 PM | RATED PG
Purchase tickets HERE
While on a cross-country train ride, overworked book editor George Caldwell (Gene Wilder) begins an unexpected romance with an enigmatic woman named Hilly Burns (Jill Clayburgh). His vacation is interrupted, however, when he witnesses a murder for which he is then accused. The true villains kidnap Hilly and eject Caldwell from the moving train. Desperate, Caldwell teams up with car thief Grover Muldoon (Richard Pryor), and together they must save Hilly while avoiding the police.
HARLEM NIGHTS
AUG 13 | 8 PM | RATED R
Purchase tickets HERE
In the waning days of Prohibition, Sugar Ray (Richard Pryor) and his adopted son, Quick (Eddie Murphy), run a speakeasy called Club Sugar Ray. When gangster Bugsy Calhoune (Michael Lerner) learns that Sugar Ray's place is pulling in more money than his own establishment, the Pitty Pat Club, he pays corrupt cop Phil Cantone (Danny Aiello) to close Club Sugar Ray down. Quick doesn't exactly help the situation when he falls for Calhoune's gun moll, Miss Dominique La Rue (Jasmine Guy).
SATURDAY, AUGUST 20
JO JO DANCER, YOUR LIFE IS CALLING
AUG 20 | 4 PM | RATED R
Purchase tickets HERE
Although Jo Jo Dancer (Richard Pryor) has achieved success as a stand-up comedian, he hasn't found happiness. After receiving severe burns in a narcotics-related incident, Jo Jo remains in a coma, and, while in this state, he looks back on his life. Drifting off into memories of his troubled childhood, Jo Jo revisits his youth, recalling his eventual rise to fame and the decadence that followed. As he considers his existence, he must decide if he wants to go on living or not.
RICHARD PRYOR: LIVE ON THE SUNSET STRIP
Aug 20 | 8 PM | RATED R
Purchase tickets HERE
Richard Pryor takes the stage at the infamous Hollywood Palladium in one of his first performances after a well-publicized battle with drugs. Older, wiser and funnier than ever, the venerable comic tells outrageous jokes and a number of moving stories about his personal past -- including one about a life-changing trip to Africa. Pryor's trenchant social commentary touches on an array of subjects, from prison and mobsters to hospitals and cocaine.
---
Tickets may also be purchased by calling 309.686.7000 or at the museum's front desk.
---
Sponsored by Film Society.
Special thank you to AdCo for promotional assistance.