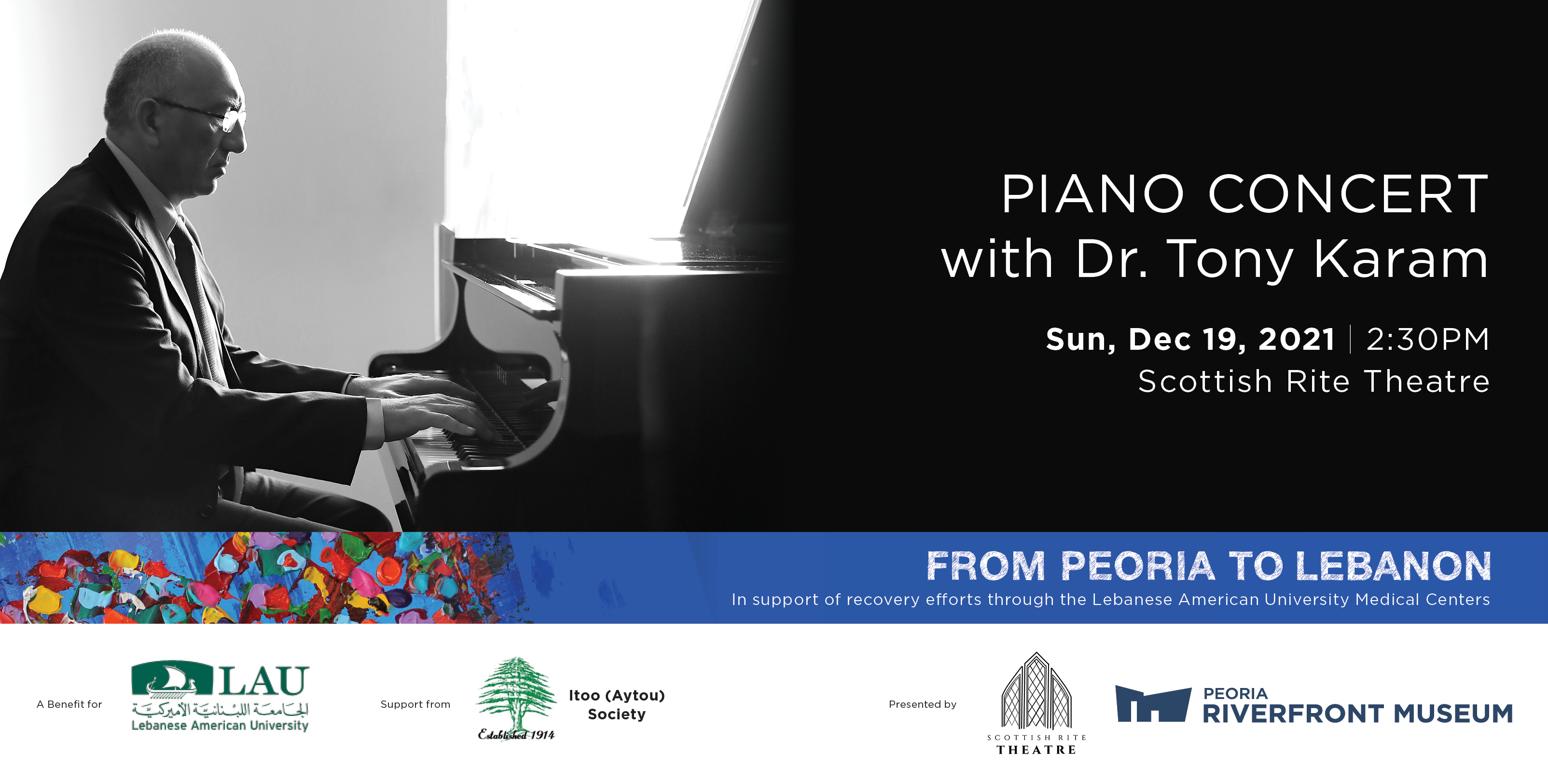 Piano Concert with Dr. Tony Karam
Sun, Dec 19, 2021 | 2:30PM
Scottish Rite Theatre
Join us for this once in a lifetime concert to help those truly in need! Located at the Scottish Rite Theatre on Sunday, December 19, at 2:30pm, Peoria will gather to support the Lebanese American University - LAU Medical Center. Reserve your tickets now, click here.
"'From Peoria to Lebanon,' a unique multitiered benefit, pairs the musical genius of Dr. Tony Karam with an exquisite art exhibition by the leading contemporary artists of Lebanon with one goal in mind – to offer help, hope and a future for those who, in the aftermath of the devastating Beirut Port explosion and a total economic collapse of Lebanon's currency, cannot afford even the basics of medical care."
- Michele Couri, MD, honorary chair, "From Peoria to Lebanon"
CONCERT PROGRAM click here (PDF)
Dr. Tony Karam performs at Peoria Riverfront Museum
About the Artist - Antoine "Tony" Karam, MD
An internationally renowned pianist since childhood, Beirut native Dr. Tony Karam is a distinguished OBGYN who practiced in the U.S. and currently practices in Lebanon. Dr. Karam received his double M.S., Microbiology & Immunology, High Honors, and MD from The George Washington University School of Medicine and Health Sciences.
Dr. Tony Karam discusses "From Peoria to Lebanon" click here