Event Details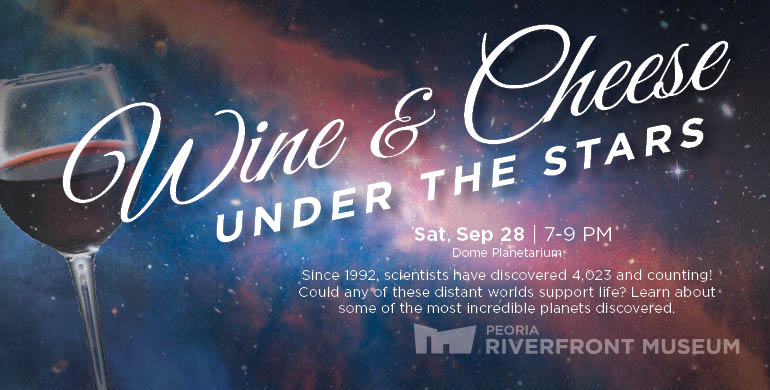 Wine & Cheese Under the Stars | Exoplanets
Sat, Sep 28 | 7-9 pm
Dome Planetarium
The first planet orbiting a star outside of our Solar System was discovered in 1992. Since then, scientists have discovered 4,023 and counting! Could any of these distant worlds support life? Learn about some of the most incredible planets discovered so far while enjoying cheese and wine in our beautiful planetarium.
Enjoy a variety of wines, and cheese & crackers under our spectacular night sky. Enjoy the latest news from space and take a real-time Uniview tour across the Universe with an astronomy expert as your guide. Guests will receive up to three glasses of wine or soda, and a variety of cheese & crackers with paid admission. Doors open at 6:50 pm. Ages 21+
$30 members | $36 public
Buy tickets online now - click here.
Tickets & more info also available at the Museum or by phone: 309.686.7000.
All supplies provided for programs unless otherwise noted. All paid programs require a minimum number of participants to run or will be cancelled two business days prior to the start date. Pre-registration required.