Event Details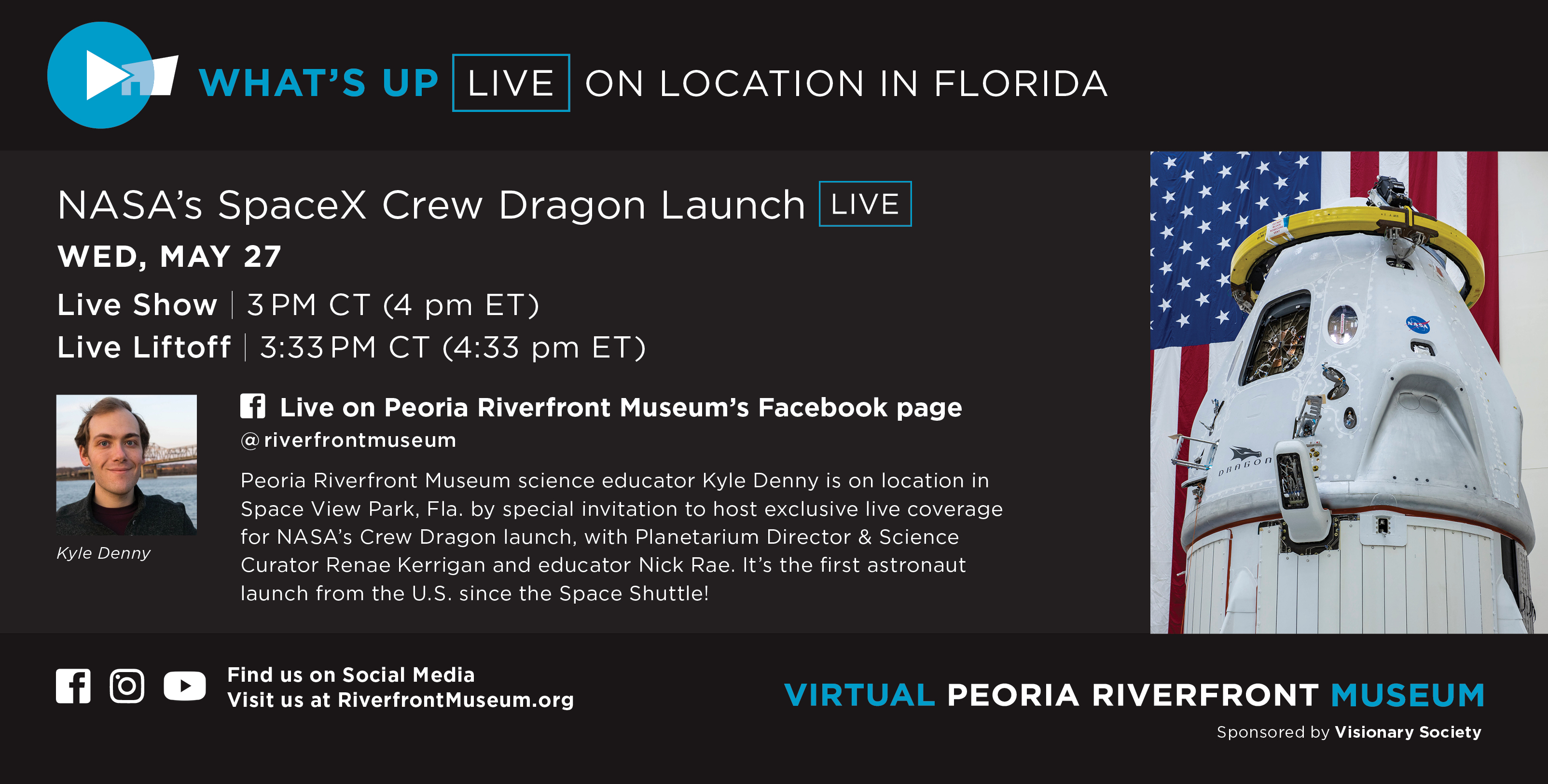 Join Kyle Denny on location in Space View Park, Florida for this exclusive museum live!
NASA's SpaceX Crew Dragon Launch LIVE 
Live Show | Wed, May 27, 3 pm CT (4 pm ET)
Live Liftoff | Wed, May 27, 3:33 pm CT (4:33 pm ET)
Peoria Riverfront Museum's Facebook page | @riverfrontmuseum
Peoria Riverfront Museum science educator Kyle Denny will be on location in Space View Park in Titusville, Fla. by special invitation to host livestream coverage for the SpaceX Crew Dragon launch. Kyle will be joined by Peoria Riverfront Museum Planetarium Director and Science Curator Renae Kerrigan and science educator Nick Rae for this very historic mission. It will be the first time astronauts have launched from the United States since the Space Shuttle missions. Join us for this exclusive museum event!
NASA's SpaceX Demo-2 "Crew Dragon" Mission Launch
NASA's SpaceX Demo-2 mission will return U.S. human spaceflight to the International Space Station from U.S. soil with astronauts Robert ("Bob") Behnken and Douglas ("Doug") Hurley on an American rocket and spacecraft for the first time since 2011. In March 2020, at a SpaceX processing facility on Cape Canaveral Air Force Station in Florida, SpaceX successfully completed a fully integrated test of critical crew flight hardware ahead of Crew Dragon's second demonstration mission to the International Space Station for NASA's Commercial Crew Program; the first flight test with astronauts onboard the spacecraft. 
Behnken and Hurley will fly to the station aboard a SpaceX Crew Dragon spacecraft launched by a Falcon 9 rocket from Kennedy's historic Launch Complex 39A. The Demo-2 mission will serve as an end-to-end flight test to validate the SpaceX crew transportation system, from launch to docking to splashdown. It is the final flight test for the system to be certified for regular crew flights to the station as part of NASA's Commercial Crew Program. Liftoff is slated for Wednesday, May 27 at 3:33 p.m. CDT /4:33 p.m. EDT.
Follow NASA's Commercial Space program HERE.