Event Details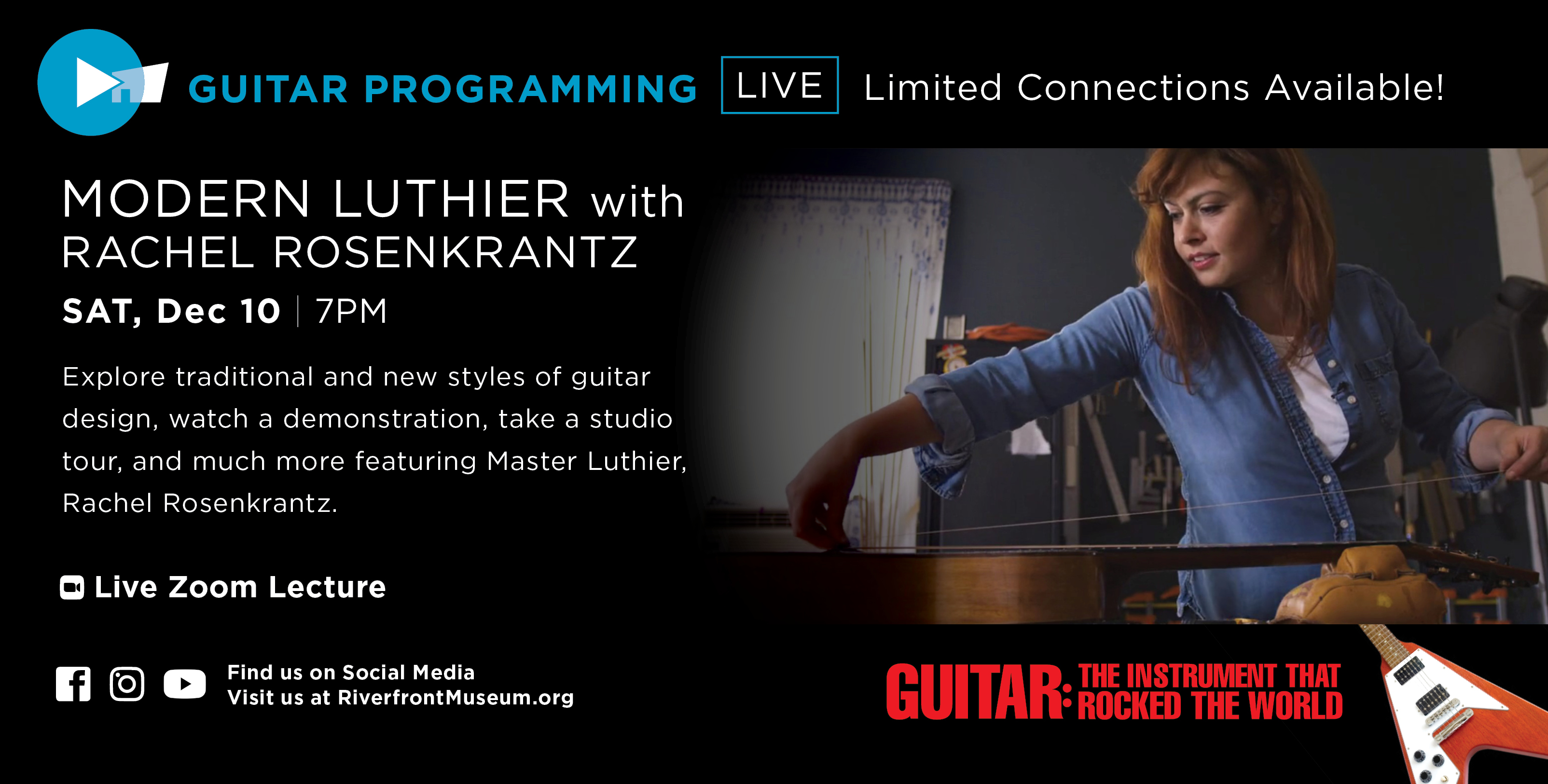 Modern Luthier | Featuring Rachel Rosenkrantz
LIVE Zoom Conversation, Limited Connections Available!
Thu, Dec 10 | 7 pm
Virtual Zoom Event
Spend the evening with Rachel Rosenkrantz, a modern luthier and teacher at the Rhode Island School of Design, and Zac Zetterberg, Assistant Curator of Art and avid guitar player from the Riverfront Museum!
Learn about Rachel's background growing up in Paris and her history with the guitar from functional musical tool to an artistic creation. Enjoy an exclusive tour of her shop and watch a demo of Rachel forming part of a guitar! During this program you'll learn what it takes to build a guitar from scratch and see the cutting edge of alternative materials in guitar designs from beehives and vegan leather, to 3D printing.
Questions will be welcomed at the end of the presentation. Advanced registration required. 
$7 Member per connection | $12 Public per connection
Register online now - click here.
Only one connection is necessary per household, if everyone is tuning into one device. Please purchase one connection per device being used. Limited Connections Available.
Questions? Email hplacko@peoriariverfrontmuseum.org
BIOGRAPHY
Rachel Rosenkrantz is a French luthier based in Providence, Rhode Island, who spent a number of years playing music and developing architectural-design products. Born and raised in Montfermeil, France, Rachel studied Design at l'ESAG, in Paris as well as at RISD in Providence, where she was exposed to both fine arts and applied arts. Her understanding of construction through her industrial design years as well as her knowledge of music are two strong assets forming a stable backbone to her actual art-making of string instruments. Rachel is also a professor, teaching Spatial Dynamics at RISD in the Experimental and Foundation Studies Division. Just like her music and her designs, Rachel works her luthiery by exploring the combination of both traditional and new styles and techniques and tries to bring a unique perspective to her work with a strong focus on sustainability and innovation. Rachel is locally involved with the Rhode Island music community and is an active beekeeper.
Rachel was featured in an episode of Raw Craft Anthony Bourdain, see other press - click here. 
Website: Atelier Rosenkrantz
Instagram: @atelier_rosenkrantz