Event Details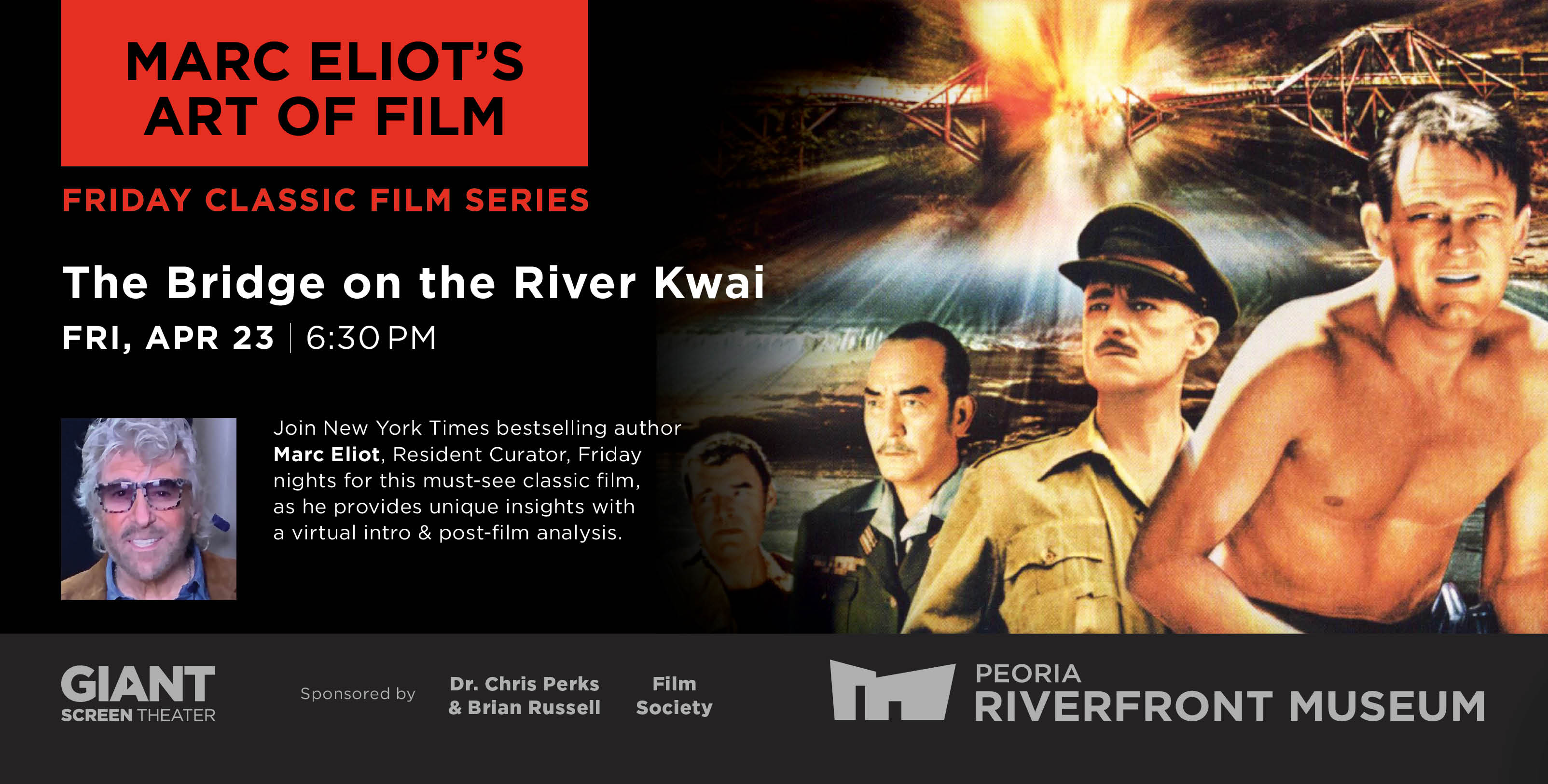 Fri, Apr 23 | 6:30 PM
Tickets | CLICK HERE
Join us for our new weekly film series in the Giant Screen Theater, "Marc Eliot's Art of Film," with The New York Times Best-Selling Author! Peoria Riverfront Museum is pleased to announce the residency of film critic and historian Marc Eliot, who is the author of more than two dozen books on pop culture and biographies on Hollywood icons. Marc has personally selected each of the films in the "Art of Film" series and provides virtual commentary for each film before and after the film's screening at the museum.
BRIDGE ON THE RIVER KWAI, 1957, A British-American production. Director: David Lean. With William Holden, Alec Guinness, Sessue Hayakawa.
Kwai ranks 36th on the AFI (American Film Institute) list of the greatest films ever made, and with good reason. It combines all the elements of a big-screen '50s spectacle, with an intimacy its British filmmaker David Lean was known for, prior to coming to American to make movies for Columbia Pictures. This was one of the "Big Three" he made in the States, two for Columbia and Harry Cohn, it's founder – Kwai and 5 years later, Lawrence of Arabia. After Cohn's death, Lean finished his trilogy of epics with Dr. Zhivago, at MGM. Kwai, filmed only 12 years after the end of World War 2, remains one of the most virulent anti-war films ever made. Adapted from a French novel written by Pierre Boule that based on a true-life incident during the war, in which captured British POWs were forced to build a bridge to provide a vital supply link between Japan and Burma. Once completed, the Japanese planned to continue their invasion of China from the south. These true events were highly dramatized and exaggerated with many factual changes made in the novel, and again in Lean's film. No Americans officers were held with British officers, the Colonel who headed the bridge construction was not killed, and the bridge was not blown up. This is why movies are not the place to look for history, but to admire stylistically, which is why I chose Kwai, to show off the art of film. When Harry Cohn saw the first rough cut, he insisted an American character needed to be added to insure box-office success in America. He had one of the most popular Hollywood actors, William Holden, under contract, and cast him as the American hero. Cohn also wanted a woman in the film, which is why, in the middle of a POW war picture, a beautiful woman (Ann Sears) shows up as Holden's love interest (this subplot was written by Michael Wilson). With one of the most rousing climaxes ever filmed, with only one chance to film the bridge being blown up, Lean managed to bring all the threads of the story into one unified, brilliant sequence. The winner of 7 Academy Awards, including Best Picture (Columbia, Harry Cohn), Best Actor (Alec Guinness, in his first American film), Best Screenplay (originally given to Pierre Boule, as both Carl Foreman, whose previous credits include the script for High Noon, and Michael Wilson, the real screenwriters were blacklisted. Boule didn't speak a word of English). It took nearly 30 years for the Academy to correct this error and Foreman received his Oscar posthumously. Kwai stands tall as one of the dwindling number of "Big Pictures" the studios were still making in the Fifties. Powerful, moving, provocative and compelling, it is not to be missed, in 70 millimeters on the museum's giant screen.
- Marc Eliot