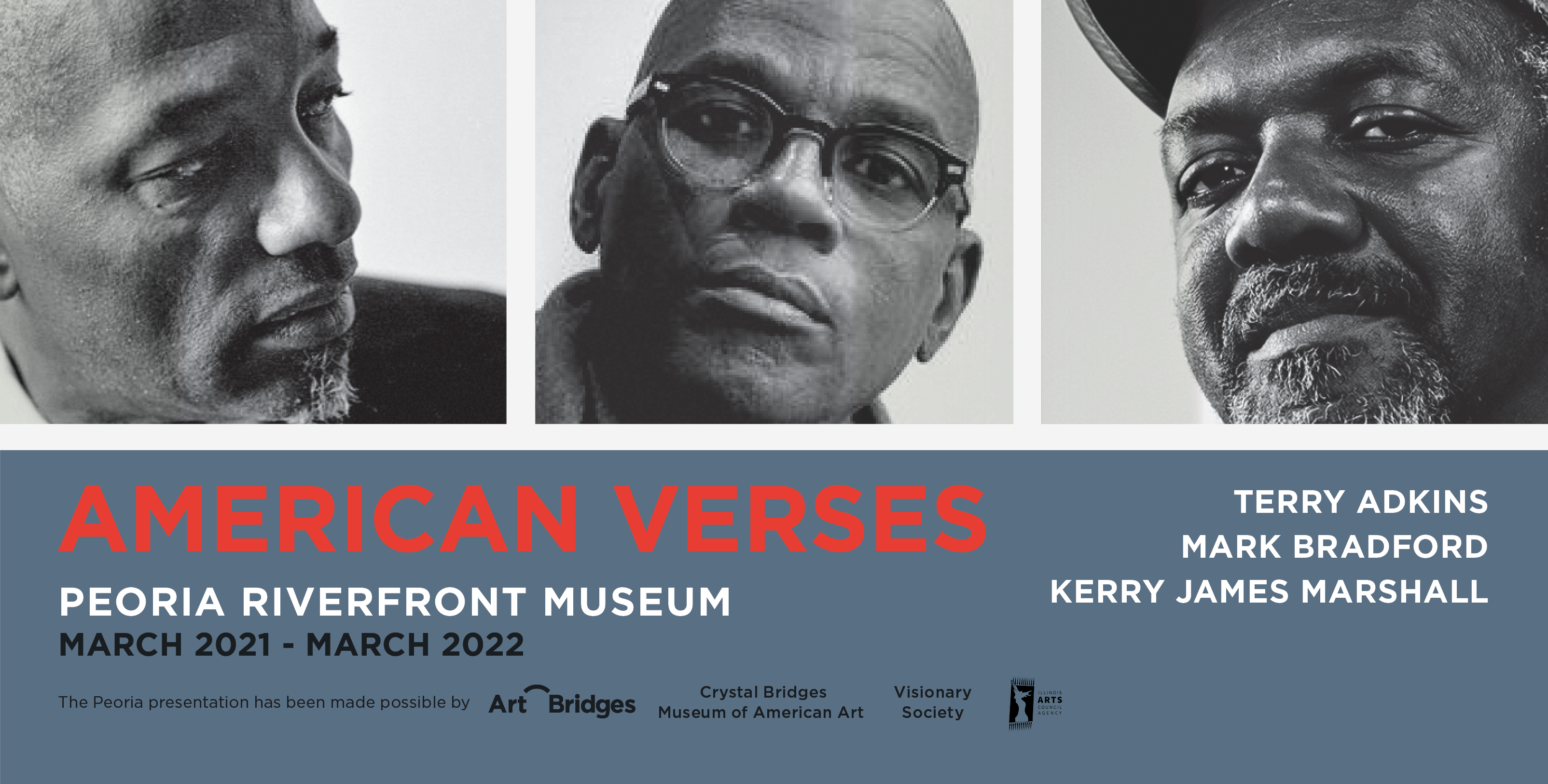 AMERICAN VERSES: TERRY ADKINS, MARK BRADFORD & KERRY JAMES MARSHALL
March 2021 - March 2022 (CLOSED)
Featuring works from the collections of the Art Bridges Foundation and the Crystal Bridges Museum of American Art
Peoria Riverfront Museum in collaboration with the Art Bridges Foundation and the Crystal Bridges Museum of American Art proudly presents "American Verses: Terry Adkins, Mark Bradford & Kerry James Marshall." 
The yearlong exhibition features seminal works by celebrated contemporary Black American artists Terry Adkins, Mark Bradford and Kerry James Marshall from the collections of Art Bridges and Crystal Bridges. These chosen works inform the traditions of painting and sculpture by channeling a variety of literary references.
Through a subversive use of a variety of literary influences, a sense of arrested speech emerges as these works collectively elicit insightful perspectives of the Black male experience. The following descriptions are written to provide context for our viewers in the form of a brief prospectus and are intended to bring our viewers closer to the concept of the exhibition.
These works by Adkins, Bradford and Marshall both induce strength and achieve a perceived silence and theatricality through the adaptation and interruption of language. These important and poignant contemporary works situate, define, and unsettle space while simultaneously relating the literary influences of novel, poem, play and myth to intensify the experience. Collectively, they bring the viewer into narratives that are informed by their own collective and individual pasts while beckoning a united future.
TERRY ADKINS
Terry Roger Adkins, MS, MFA (May 9, 1953, Washington DC - February 8, 2014, Brooklyn, NY) was an American artist and fine arts professor at the University of Pennsylvania School of Design. His interdisciplinary work, often inspired by musicians, included sculpture, performance, video and photography. Adkins work has been exhibited museums and shows around the world, including the Smithsonian Museum, New York City's Metropolitan Museum of Art and Whitney Museum, Project Binz 39 in Zurich in 1986 and Salama-Caro Gallery in London. The Fisk University graduate earned his MS at Illinois State University and MFA at University of Kentucky; his awards included 2009 Rome Prize and 2008 USA Fellows.
Terry Adkins' work entitled "Native Son (Circus)" loosely references Richard Wright's controversial 1940 novel "Native Son," which examines the volatility of the African-American male positioned in desperately impoverished environments. Consisting of forty mechanized percussion cymbals, Adkins' sculpture sits unassumingly near to the surface of the floor while producing a rhythmic cacophony within its environment. As both seductive visual encounter and auditory agitation, the relentless, arbitrary rhythms of "Native Son (Circus)" asks questions about endurance, interruption, circumstance and causality.
MARK BRADFORD
Mark Bradford, MFA (born November 20, 1961, Los Angeles) is an American artist known for grid-like abstract paintings combining collage with paint. Bradford's award-winning work also encompasses video, print and installation, and includes commissions by Smithsonian's Hirshhorn Museum and Sculpture and 221 Avenue of the Americas at Rockefeller Center. He has exhibited worldwide to critical acclaim. The contemporary artist, who started his artistic studies at age 30, earned his BFA (1995) and MFA (1997) from California Institute of the Arts; awards include MacArthur Genius Award, US Department of State Medal of Arts and Bucksbaum Award.
The scaly snake-like surface of Mark Bradford's massive collage on canvas "Thelxiepeia" is named after one of the storied sirens whose voice would seduce sailors into oblivion in Greek mythology. Having worked in his mother's beauty shop as a stylist, Bradford has mythologized his own past by employing hundreds of blackened endpapers used to Jheri curl hair to the surface of this vast and elegant painting. The resulting confluence of Greek mythology and modern beauty suggests a re-evaluation of attraction, particularly from the African-American perspective, while creating a spellbinding visage of female empowerment.
KERRY JAMES MARSHALL
Kerry James Marshall (born October 17, 1955, Birmingham, Ala.) is an American artist and art professor known for his paintings of Black figures. The Southside Chicago resident taught painting at the University of Illinois Chicago School of Art and Design from 1993 to 2006. His childhood in Birmingham and South Central Los Angeles in the Watts neighborhood during the Civil Rights movement imbued him with a sense of social responsibility that has influenced his work, which can also be found in the collections of the Metropolitan Museum of Art, Museum of Modern Art (MoMA), National Gallery of Art, Art Institute of Chicago and Museum of Contemporary Art, Los Angeles and many others.
Marshall's painting "Our Town" takes its title from Thornton Wilder's 1938 play and is represented in this exhibition by six preparatory sketches and a provided expository video. Within the setting of an idyllic, 1950s American townscape, the painting appropriates and refocuses the title of Wilder's wartime play which centered around an "average" American family. Marshall's embedding of a black family (mother and two children) as the main characters commandeers the concept of the play into a fantastical and subversive utopia rife with many of the underlying systemic forces which have plagued racial identity in America.
---
The Peoria presentation has been made possible by Art Bridges Foundation, Crystal Bridges Museum of American Art & Visionary Society.
---
EXHIBITION WORKS
Art Bridges Foundation Collection
Terry Adkins Native Son (Circus)
2006, fabricated 2015
Cymbals, armature, and additional technical components
20 × 96 × 96 in. (50.8 × 243.8 × 243.8 cm)
AB.2018.5
Mark Bradford
Thelxiepeia
2016
Mixed media on canvas
96 in. × 18ft. (243.8 × 548.6 cm)
AB.2017.14
Crystal Bridges Museum of American Art Collection
Kerry James Marshall
Untitled (preparatory drawing for Our Town)
n.d.
ink on paper
Sheet: 9 × 12 1/2 in. (22.9 × 31.8 cm)
2016.2
Untitled (preparatory drawing for Our Town)
n.d.
Pencil on paper
Sheet: 11 × 8 1/2 in. (27.9 × 21.6 cm)
2016.3
Untitled (preparatory drawing for Our Town)
n.d.
Pencil on paper
Sheet: 18 × 24 in. (45.7 × 61 cm)
2016.4
Kerry James Marshall ctd.
Untitled (preparatory drawing for Our Town)
n.d.
Pencil on paper
Sheet: 11 × 14 1/2 in. (27.9 × 36.8 cm)
2016.5
Untitled (preparatory drawing for Our Town)
n.d.
Pencil on vellum
Sheet: 11 × 16 3/8 in. (27.9 × 41.6 cm)
2016.6
Untitled (preparatory drawing for Our Town)
n.d.
Pencil on paper
Sheet: 14 1/8 × 11 in. (35.9 × 27.9 cm)
2016.7