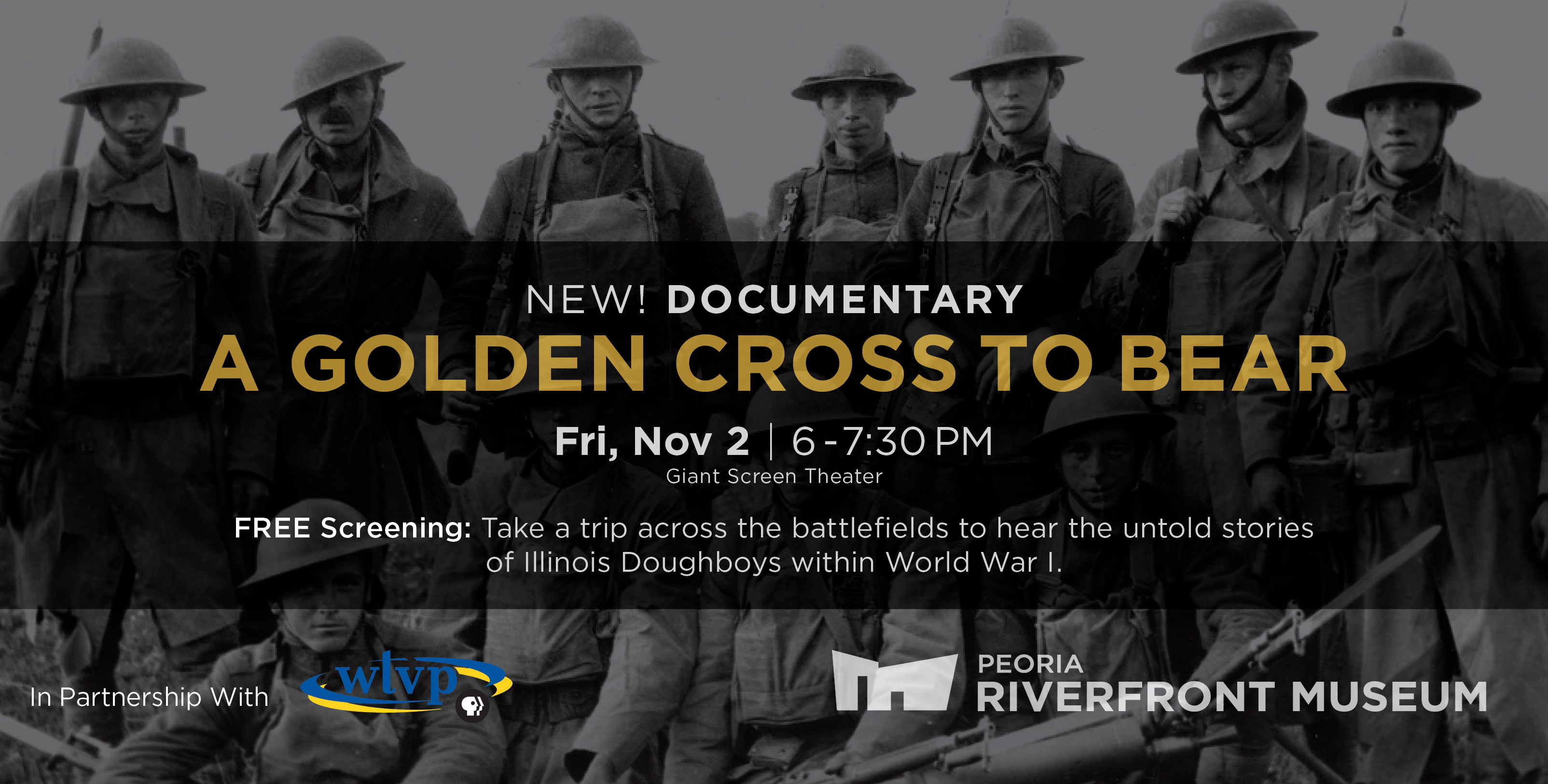 A Golden Cross to Bear: A Story of the 33rd Division in World War I
Fri, Nov 2 | 6 pm
Free Event! Exclusive WTVP preview screening at the Peoria Riverfront Museum's Giant Screen Theater!
Join the filmmakers for the exclusive preview screening of the five-time Emmy nominated film "A Golden Cross to Bear: A Story of the 33rd Division in World War I" at the Peoria Riverfront Museum. Join filmmaker Kane Farabaugh and producer Roger Amm for a live question and answer session following the screening. A Golden Cross to Bear and WTVP are official partners of the World War One Centennial Commission.
Doors open at 5:30 pm
Show begins at 6 pm
Q&A after the screening with filmmaker Kane Farabaugh and producer Roger Amm
Register with WTVP for free tickets - click here. 
A Golden Cross to Bear
In the autumn of 1918, more than 1 million Americans fighting in France engaged in the bloodiest battle in the history of the U.S. military, known as the Meuse-Argonne Offensive. Over 47 days of combat, nearly 100,000 U.S. "doughboys" were wounded, and more than 26,000 were killed in action during a chapter of "The Great War" that few Americans today truly understand. Many of those casualties were from Illinois.
During the 100th anniversary of World War I WTVP will broadcast an original television documentary series titled "A Golden Cross to Bear" which follows Roger Amm, grandson of Pontiac, Illinois farmer Gustave Amm who served in the Illinois 33rd "Golden Cross" Infantry Division, as he embarks on a global journey to honor his grandfather and all brave Americans who played an important role in helping bring World War 1 to an end. It's more than just a journey of discovery for Roger Amm as he explores a previously untold story of the front line experience in that conflict, and how the events his grandfather participated in ultimately shaped the global map, Illinois, and his own family.
Find out more about the event by calling WTVP at 309-495-0547 or go to WTVP.org.